Many would join Country Clubs mainly for social interactions. But, as they say, like-minded people would go for the same interests and environment. The same is true for those who are into creative pursuits or sports. For example, how would you want to play golf at any time of the day within a few steps from home?
Florida has been a year-round key destination for golfers. The state's warm climate and perennially sunny skies are excellent for spending time outdoors. Miami is renowned for being home to many great golf courses, aside from the unique dining and entertainment options, making it one of the best places to live.
Whether you're a newbie golfer or a veteran, we will show you some of Miami's best country and golf clubs. For those looking for a home, you might want to entertain the thought of living around a country club or golf club community for easy accessibility to your passion or sport.
Here are some of the top private golf and country clubs in Miami worth checking out:
1. Fisher Island Club
Address: 1 Fisher Island Drive, Miami Beach
How do you like spending a ferry ride to go and play golf on a pretty large island? You can do that in the exclusive Fisher Island Club, a five-star one with a 9-hole, per 35 golf course in this part of Miami Beach. This neighborhood is immensely posh and, in fact, rated as one of the wealthiest locations in the whole country. So, if you're looking for an ideal luxury estate to invest in and live in Miami, this could be a perfect choice. Right now, it has approximately 800 residences represented by over 40 countries.
Want to live in this community? Aside from buying a multi-million-dollar condo unit, members have to pay a one-time fee of $250,000 and annual dues to Fisher Island Club. This exclusive and private "membership only" club is only accessible through a yacht or private ferry. Apart from the lush golf course and other well-appointed amenities, you will be surrounded by an island with an observatory for stargazing, a private beach club with butler services, and an aviary featuring several exotic birds. In addition, you can check their 15-room all-suite luxury hotel, 17 tennis and four pickleball courts, two deep-water marinas, a 24,000 square foot spa, a fitness center, and various casual and formal dining venues.
On the island, golf carts are the primary mode of transportation here. The challenging but beautiful course is ranked as the 8th best golf course in the country. It also offers golf instructions by PGA professionals so you can learn from the masters.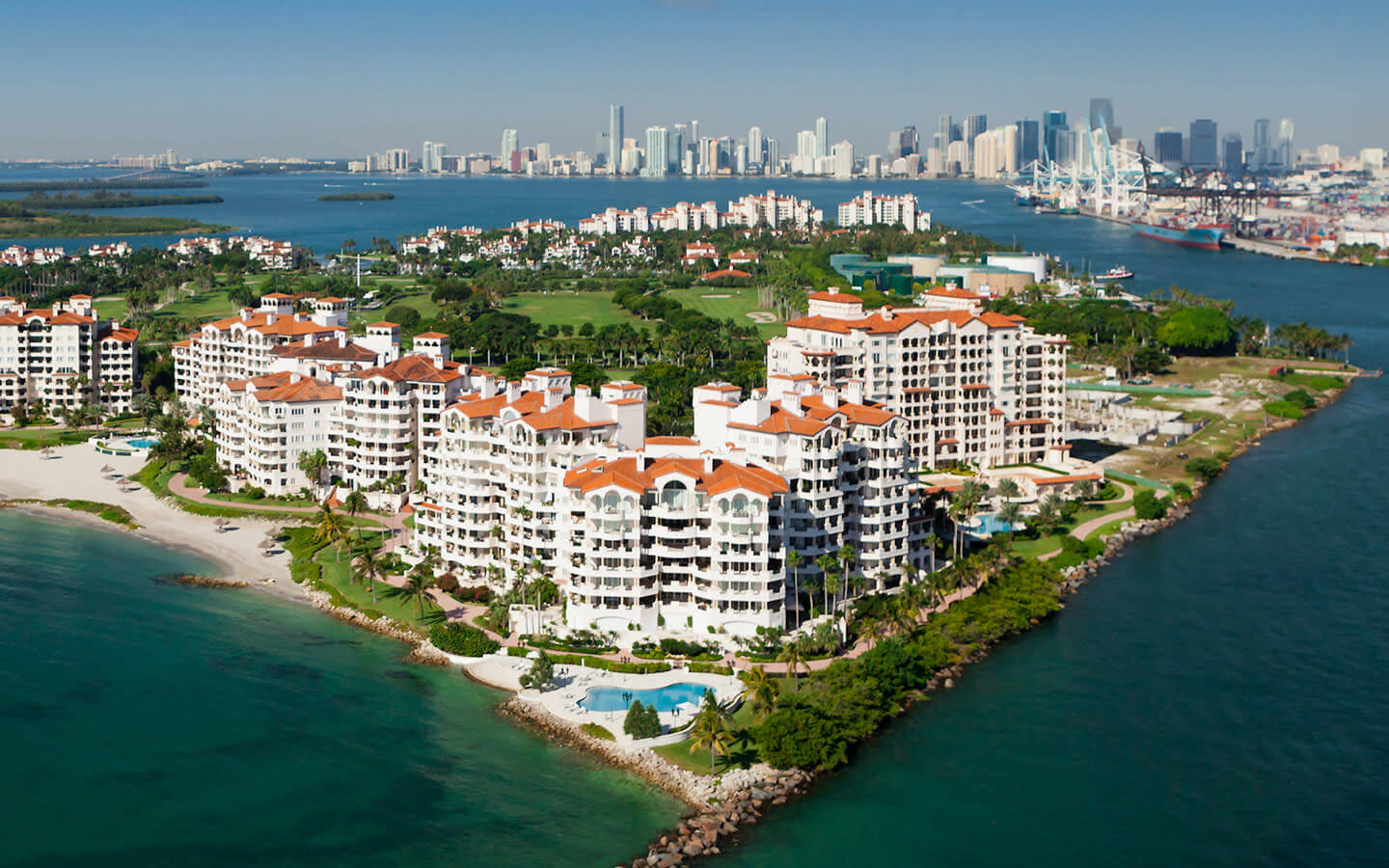 2. La Gorce Country Club
Address: 5685 Alton Road, Miami Beach
La Gorce Country Club is a private club by invitation only. That's why it's highly rated as one of the best by many pros. Only nominated by the existing members can apply. Initially built in 1927 (yes, that old), La Gorce Country Club has transformed into many changes throughout the years. The last renovation was made in 2005, as a new clubhouse was built for its members.
La Gorce Country Club is not a distinct community in the Miami Beach area, but since the club is quite a prominent landmark, many would consider the surrounding homes within the club as the La Gorce neighborhood. These would specifically refer to the luxurious residences nestled on Alton Road and La Gorce Drive, West 63rd Street to the north, North Bay to the west, and the Pine Tree Drive to the east. The neighborhood surrounding La Gorce Country Club is south of the exclusive La Gorce Island, amidst the sparkling blue waters of Biscayne Bay.
La Gorce Country Club is flourishing even today with a featured array of deluxe amenities, including the 18-hole championship golf course (which was designed in the 1920s by Robert Trent Jones and masterfully upgraded in the mid- '90s by the world-famous golfer Jack Nicklaus). This beautiful yet challenging course is considered one of the best by many golf pros. The rest of the impressive amenities are the pool and lounge area, the tennis courts, a state-of-the-art fitness center, private events and banquet rooms, and fine and casual dining restaurants.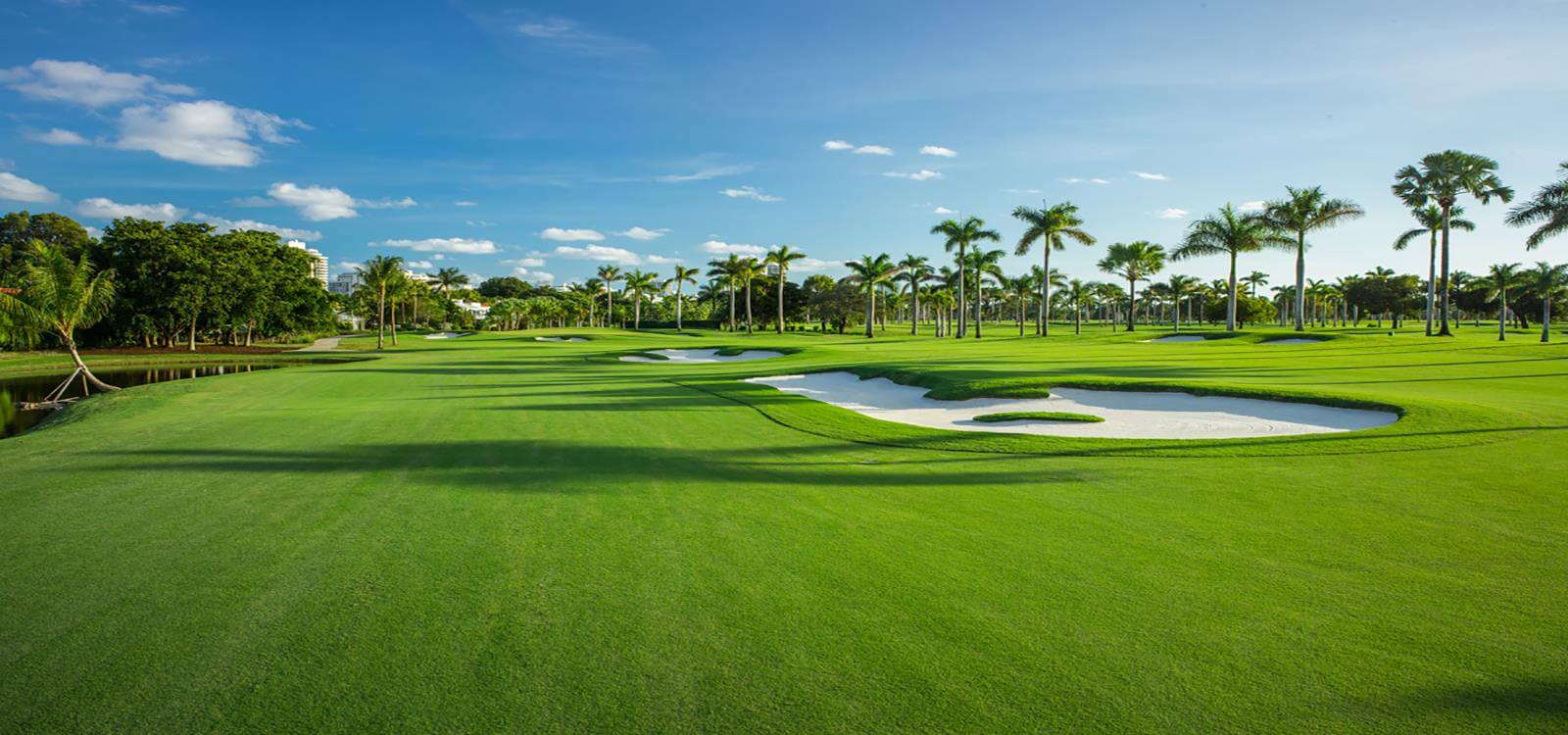 3. Indian Creek Country Club
Address: 55 Indian Creek Island Rd, Indian Creek Village
Indian Creek Country Club is a unique public golf club exuding a fun, friendly environment. They have all the amenities, the topmost of which is a pretty challenging per 32 golf course. This green course is nestled among the lovely oaks of the valley, scattered among granite ledges. Check the following: a creek, pond, wetlands, and a lake also offer a few water hazards, though still breathtaking.
Privacy and luxury are what set Indian Creek Country Club apart from the rest. It is located between
Bal Harbour
and Miami Beach, and this community has its police group and armed boats as security 24/7. Aside from that, experience a grand clubhouse of Italian design and architecture offering terraces that overlook the bay and the golf course itself. Relish high-end cocktail nights, too. This club maintains a rather elite standing as the non-members cannot even go through their website, nor can they notch a tee time.
What's admirable at Indian Creek Country Club? Under the guidance of golf professionals like Mark Hatala, PGA, and Patty Snyder, LPGA - you will feel better about your game. Both offer private and group lessons for juniors and adults.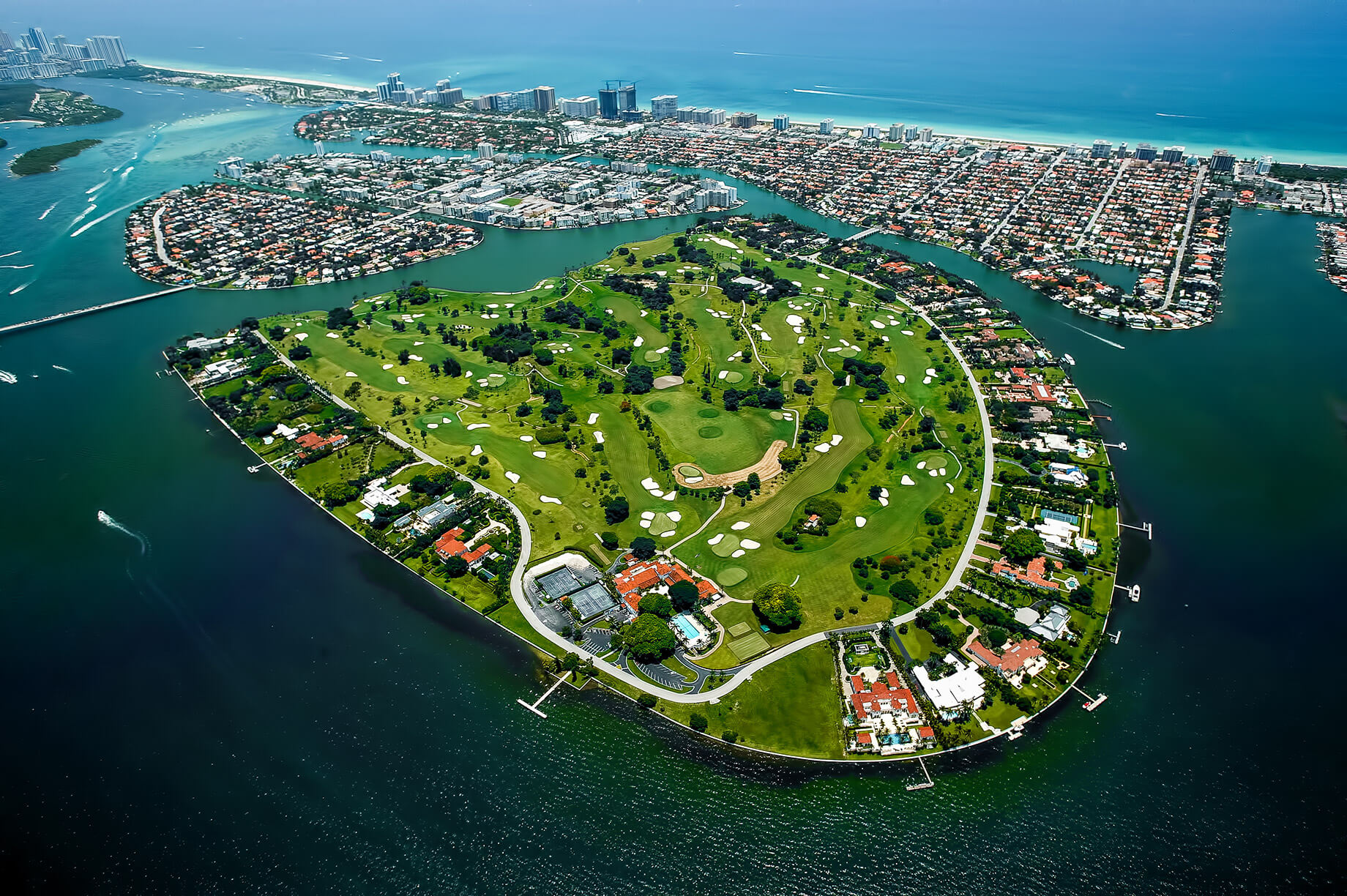 4. Turnberry Isle Resort & Golf Club
Address: 19999 W Country Club Drive, Aventura
Undoubtedly, one of the most extraordinary private clubs in the country is Turnberry Isle Country Club. It is a club offering seamless access to a JW Marriott resort's exceptional services and amenities. Talk about a sprawling water park, a world-class spa, several outstanding restaurants and bars, and a 36-hole championship golf course. As attested by Conde Nast Traveler, JW Marriott Resort is #1 in Florida.
There are two luxury courses, Soffer and Miller, which have been part of Aventura's Turnberry Isle Resort and Golf Club since 2006. This full-service facility includes lessons, rentals, a driving range, and a putting green. The playground courses are Mediterranean-inspired and listed as one of the best in Florida. The resort also boasts a five-acre pool with complete cabanas, a three-mile jogging trail, a tennis center, and other country club amenities. There are also several parties, events, and activities the members enjoy. Dining is impressive, especially if you go to the American Steakhouse Bourbon, one popular venue.
Homeowners of nearby luxury residences in Miami would often go to Turnberry to stay at JW Marriot Miami Turnberry Resort and Spa for a weekend of leisure and fun. As a Turnberry Isle Resort and Golf Club member, experience the vibrancy of life, a cosmopolitan kind of lifestyle, and exclusive privileges and services you wouldn't resist. Indeed, one hallmark of luxury is this well-appointed club, the Turnberry Isle Resort and Golf Club.
Buying Luxury Homes/Estate in Country Club and Golf Communities
Residents love their homes in the country club/golf club neighborhoods because of their easy accessibility to these exclusive clubs and the luxurious amenities just enumerated. But remember that as you would like to pursue potential memberships in these clubs, you also need to consider a few things if you are searching to buy real estate in such luxury communities.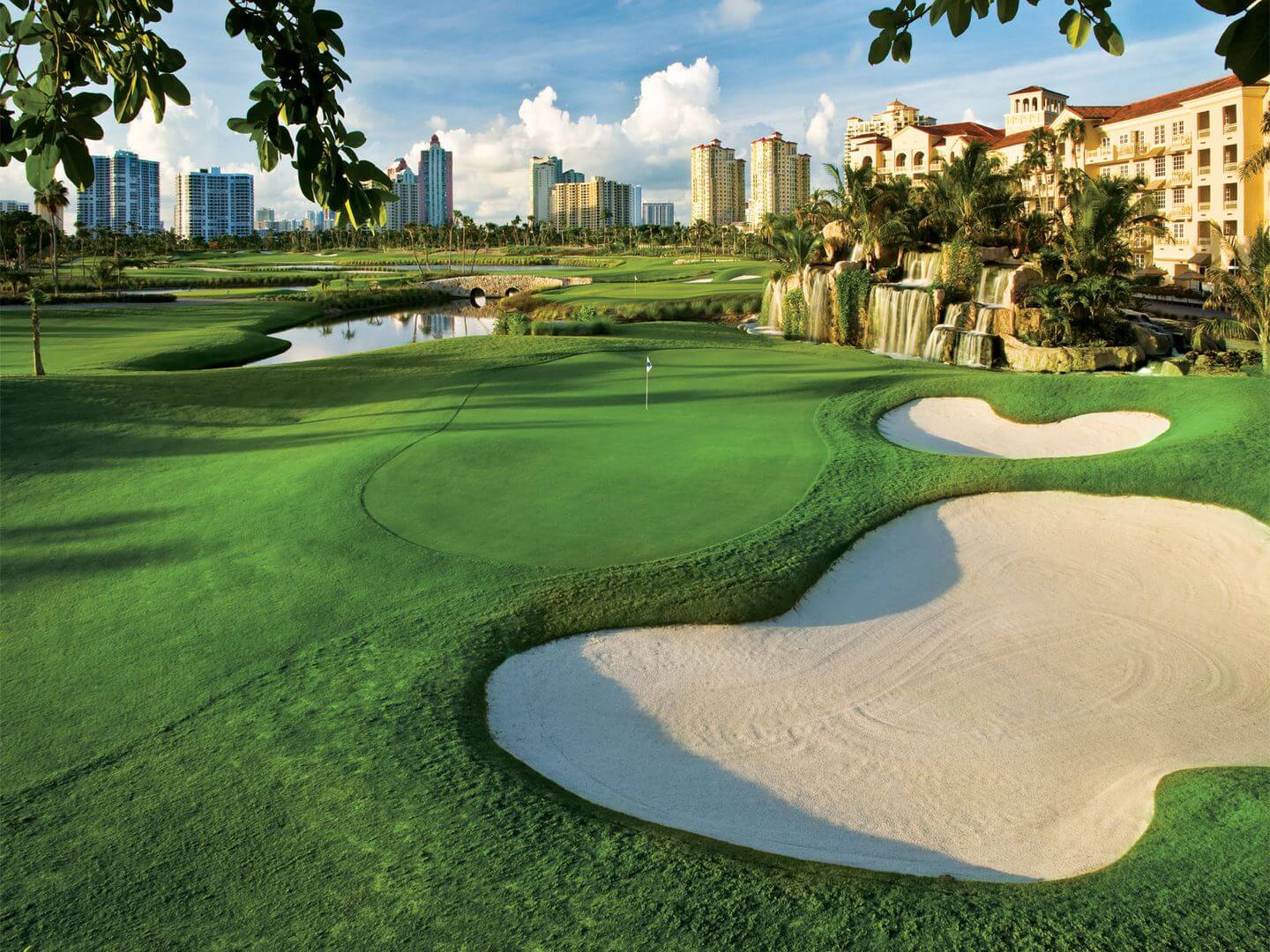 Here are helpful guidelines to note and remember:
• Suitability to your Needs - Which one best suits your needs as far as the clubs mentioned here? They all have beautiful golf courses, but they also offer some unique points. Do you prefer a neighborhood with first-rate social activities for your children? Or is your top consideration leaning towards the quality of the golf course? Weigh all options and make the final decision on the best location apt for your needs.
• Membership Policies - What will affect your decision in choosing a community – there are homes inside or within the club community where you can have instant membership? Still, others do not offer such membership. Every club has its membership policies, so you need to be aware of this upfront.
• Preferred Home Design or Style - These communities offer various home architecture styles, ranging from Spanish to Italian to Mediterranean architectures to the more contemporary ones. You must decide which type of house you prefer to have that option for a residence in the classy community.
• Frequency of Hosting Tournaments - How often does the course host tournaments? You may also want to find out if there are outside tournaments they host and their schedules. There are limitations for all your playing opportunities, plus think of the many visitors to the matches whom your exclusive community will have to accommodate.
Are you interested in living in a luxurious, elegant style in a country/golf club type of neighborhood? Do you want to play golf any time you feel it within a few steps away from your home?
Then, contact us at
BrokerOne
so we can assist you in looking for that right club, the community, and your dream home soon.