If walking around the island part of Miami you often hear the word "SoFi" in the conversation of the locals, do not rush to the conclusion that this is a very popular name here. Indeed, with a much higher probability we are talking about one of the most luxurious and attractive areas in terms of life - South of Fifth, or, as the residents themselves call it, Sofi.
What can you expect from life in the South of Fifth?
- excellent ecology and a large green area combined with a developed infrastructure
- great views of the ocean and the opportunity to practice any kind of water sports
- a huge selection of new luxury residential complexes with a modern layout and all related services
- a special style of development of the Art Deco district, atmospheric streets and buildings
- quiet and comfortable life in the
South of Fifth
and the proximity of South Beach with its huge selection of entertainment
Location
If you look at the map, you can see that SoFi resembles a triangle in its shape. Located in the very south of the island, it is washed on both sides by water. The western border is
Biscayne Bay
and a 1905 artificially constructed shipping canal called the Government Cut. The eastern border is the endless Atlantic Ocean. But the upper northern boundary of the district is Fifth Street (5th Street), separating SoFi and the neighboring South Beach district. Actually, hence the very name of the area - South of Fifth.
And despite the fact that these two prestigious areas are very close, unlike South Beach, where nightlife does not stop for a minute and Ocean Drive is never empty, life in Sofi is still beautiful, but more calm and unhurried.
Ecology and entertainment
The far south of the area is a huge green area of ​​as much as 17 acres, on which South Point Park is located. Not so long ago, a large-scale renovation was made in the park, and today its territory looks even more beautiful. Of course, first of all, it is a magnificent natural oasis in the middle of a modern metropolis, which in itself is already magical. The entire territory of the park is landscaped, the number of green spaces in some corners is so great and diverse that for a moment you might think that you are in a real jungle or a botanical garden. Isn't it wonderful? Locals especially love to spend time here, but residents of other parts of Miami also love to come here on weekends.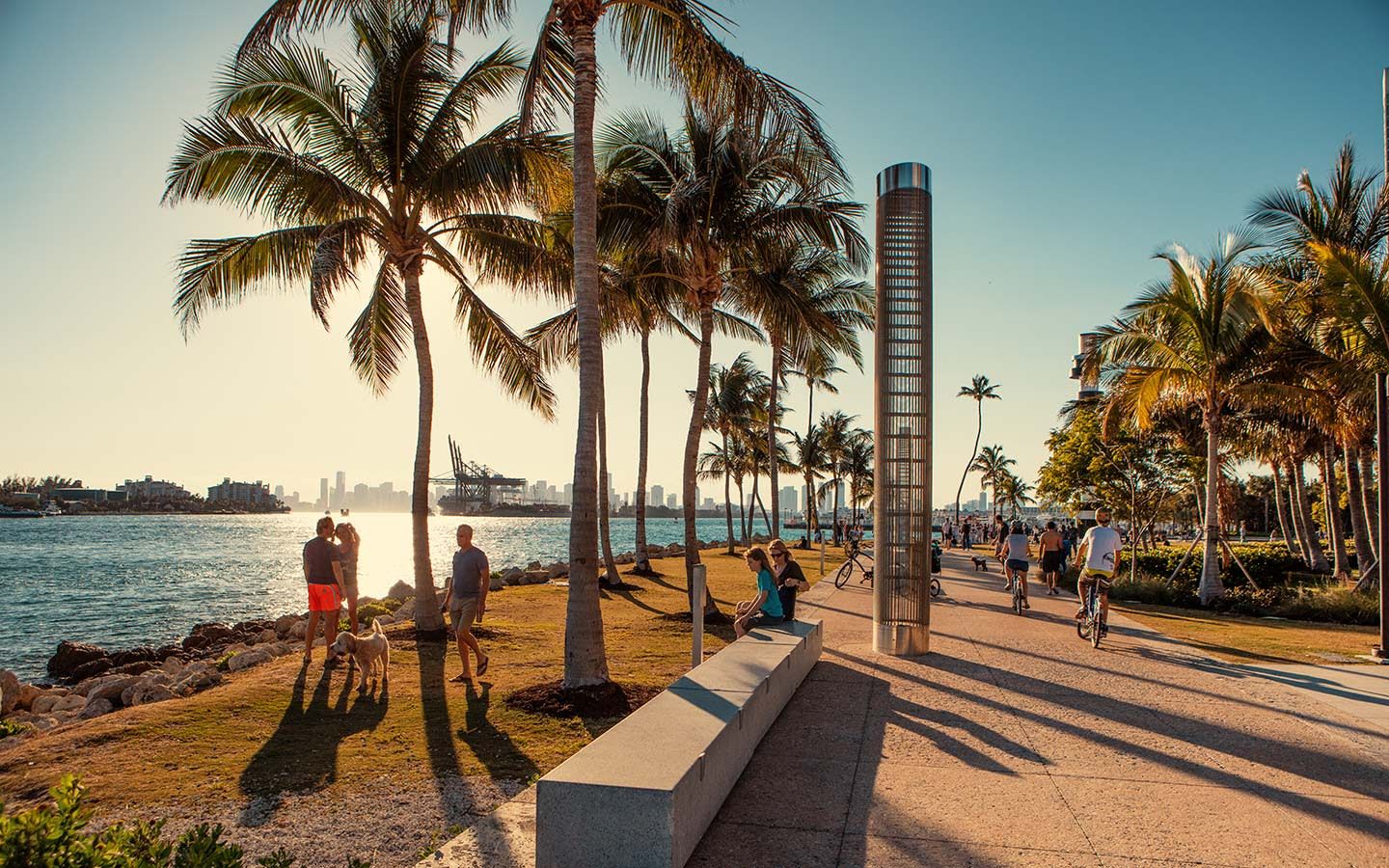 South Pointe is famous for all the same great beaches as the upper South Beach area, but here they are less partying and the audience is more relaxed, here you will have more opportunities to relax and enjoy your vacation. By the way, this particular beach is considered the most equipped in the area. Perhaps the second advantage of the park after the beaches is the promenade. The pedestrian promenade stretched along the entire coastline washed by
Biscayne Bay
and ended at the southernmost point - at South Point Pier. By the way, this is a favorite place for fishermen. So if this is your passion, you will meet many friends here. The park as a whole is ideal for people with a wide variety of hobbies. There are yoga grounds and even an equipped outdoor gym, playgrounds for toddlers and their parents.
Through the entire territory of the park, kilometers of bike paths stretch, on which it is also allowed to ride on skateboards. From the pedestrian embankment, you can watch how ships dock and set sail, or how it somehow cuts through the waves, for example, on water skis. Water sports and any other sports are very developed and welcome here. They did not forget about the improvement and about our four-legged friends. So if you or your family are happy owners of a dog, then know that this is the only park in Miami that has a special area where it is allowed to walk with dogs without a leash. Of course, certain hours are allocated for this, when the park is not so crowded with people so that you and your pet and those around you feel as comfortable as possible.
Community and lifestyle
As the future home of SoFi is most often chosen by those who want to maximally ... combine life in a "safe haven" with the proximity of driving South Beach. It is within the area that locals love to lead a quiet, calm life, walk in pairs or small companies in the fresh air, come with children to family beaches or just enjoy the breathtaking views of Fisher Island. Residents of Sofi also prefer to eat in local establishments. In addition, the choice of cafes, restaurants and eateries here is not nearly worse than in the neighboring northern regions, and there are even culinary celebrities who have been awarded Michelin stars. But, perhaps, the most popular place can be safely called Joe's Stone Crab - a restaurant that began its history here back in 1913 and became famous, as the name implies, for crabs, which are served here under the signature mustard sauce. This is the oldest institution not only in the area, but also on the entire island.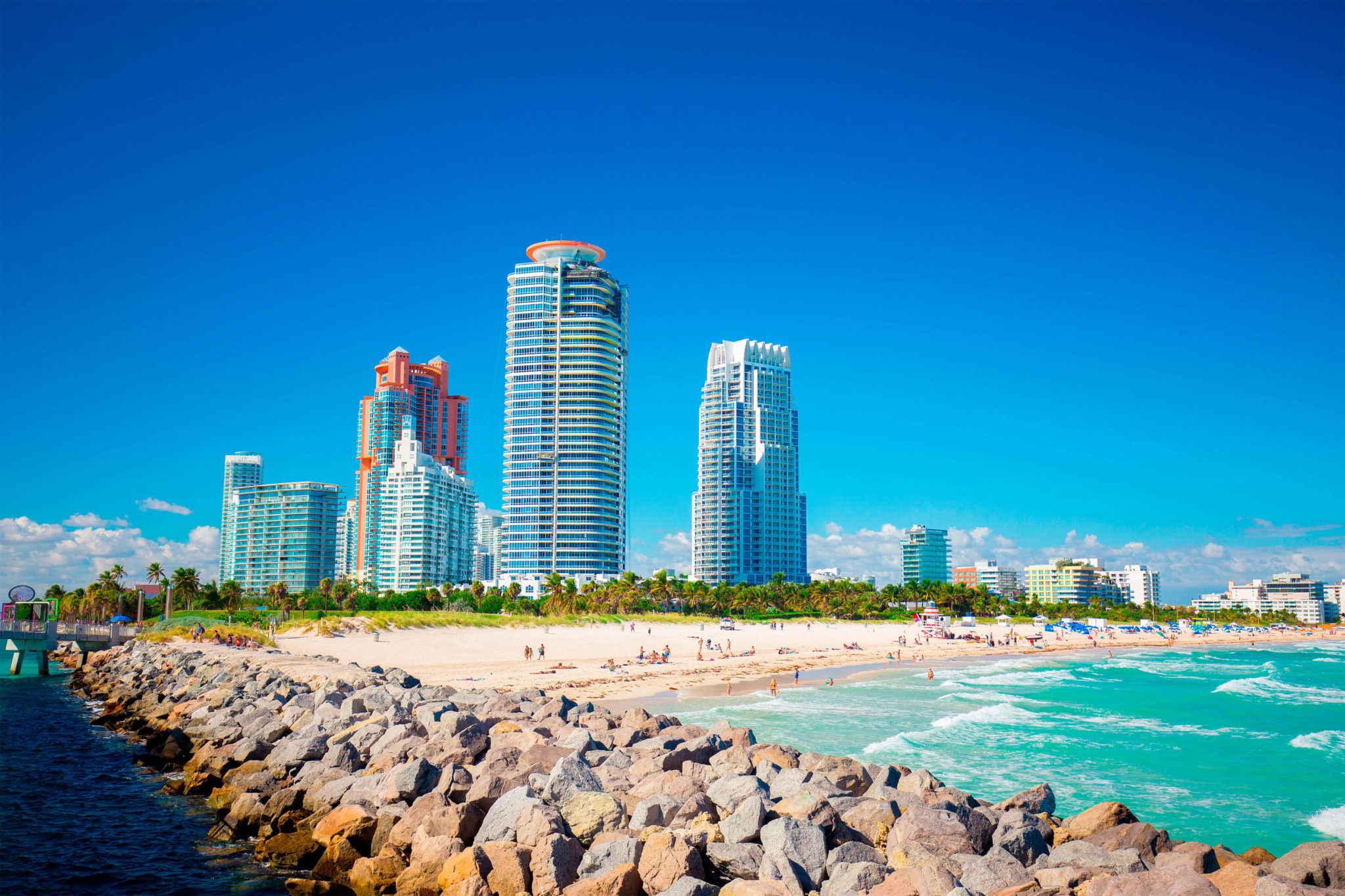 In general, the locals lead a rather secluded lifestyle, oriented towards internal values, and are very careful about their area. The main part of the development here is the housing stock, and there is not much space allocated for commercial buildings, so the area is ideal for living. It is not as fashionable and glamorous as the neighboring districts, but it is very different and bright, because most of the buildings built here were erected during the boom of the Art Deco style, so each local building is practically a separate art form. But locals do not complain at all about the lack of choice and entertainment, because the bustling South Beach, which never sleeps, is only a couple of minutes of walking, which is so loved by those who live in SoFi. By the way, cars are rarely used here, because the area is historical and, firstly, finding a parking space is still a task with an asterisk, and secondly, no one wants to stand in traffic jams for eternity. Better to choose a bike or ride a local tram that will take you directly to shopping malls, boutiques, theaters and galleries. The end result is a quiet, measured life in South of Fifth with great neighbors and family values, excellent options for the most modern and innovative residential developments in a green area and all available infrastructure with an incredible selection of entertainment literally "across the road" in South Beach. It sounds like a fairy tale, but in fact it is an ideal option for investments in the real estate market, which will never get bored or go out of fashion.
By the way, up to a certain point in the area there was a ban on the construction of high-rise buildings, so most of the local housing and hotel stock are buildings of several floors. And only relatively recently, the restriction was lifted and the area was chosen by elite ultra-high residential complexes, such as
Fifth Park
or Murano in Portofino. Therefore, you have every chance to settle not only in a special area, but also in a special apartment, and we will gladly help you with your choice and purchase.