Luxurious waterfront living in a privileged
Brickell
location awaits you at Baccarat Residences. It is your private paradise, all of a 75-story high-rise glass tower. It offers 324 flow-through tower residences starting at the 15th level, culminating at the top three floors with eight penthouse residences. Relish the dazzling views of the Biscayne Bay, the Atlantic Ocean, and the Miami skyline all at the same time. Twenty-eight duplexes and flats complement these tower residences, fronting no less than the Miami River and the waterfront promenade. You can visualize how life goes through each day here – vibrant, radiant, serene, and opulent.

Yes, there is more to a home at Baccarat. Each residence offers a different living experience. Every detail has been conceptualized, designed, and custom-made with elegance and passion. For instance, the museum-quality artworks on the tower's walls, plus the imposing Grand Salon and the Baccarat Spa, are unique. Residents will find comfort and delight in these exclusive and excellent amenities. The features of every home are innovative, creative, and functional to provide an easy and comfortable living for its residents. As Baccarat homeowners – enjoy the limitless luxury, laid-back glamour, and refined expressions of taste and lifestyle as perfected in the heart of Brickell. This prestigious property joins the other much-admired buildings as the latest in Miami's ultra-luxury real estate segment.
Baccarat Residences is due for completion in 2024. Three hundred sixty luxury homes (condo residences, penthouses, and riverfront villas) are available in carefully-designed layouts. This iconic development is from the company behind many other successful residential condo projects in Miami - the Related Group. This group consistently meets the expectations and standards of the new set of Brickell's diverse and affluent market.
You can never go wrong with this impressive collaboration – the Related Group as its developer, Florida's leading and well-established developer. In addition, it has shared its creation with globally-renowned companies, such as Arquitectonica for its extraordinary architectural designs, Enzo Enea for its beautiful and creative landscape architecture, and Meyer Davis for its bespoke interiors. This distinguished line-up tells us that Baccarat Residences is a one-of-a-kind property that deserves attention and recognition. What's also notable is that SH Hotels & Resorts, a hotel brand management company, operates this property.
Baccarat Residences provides exquisitely designed residences enhanced by the nature of its surroundings. You will find astonishing architectural designs, bespoke interiors, and lush green gardens. Above everything else, the Miami River promenade completes this ultimate showcase of the life and light apt for this thriving neighborhood.
Perhaps you are looking for a first residential condo or a second condo as an investment? Or do you need to upgrade your home? Then, Baccarat Residences might be your best option yet.
Location
If Baccarat Residences has a topmost attribute, it has to be its location. It is right in front of the mouth of the Miami River and Biscayne Bay. Moreover, it is just a block away from the new Brickell City Centre. This waterfront tower is ideally situated where Brickell meets the river, offering the residents with Biscayne Bay and Miami river access and, of course, the Miami cityscape views.
Indeed, as with other spectacular high-rise buildings around Brickell, Baccarat Residences is a welcome addition. The property will be a sanctuary for those longing for the best of both worlds: a relaxed, laid-back vibe amidst the luxury in a cosmopolitan setting. Modern conveniences are easily accessible. Residents have excellent options in almost everything: dining, shopping, nightlife, fun, and leisure. In this neighborhood, the skyscrapers are a sight to behold. Still, you'd also experience the tranquility that the environment brings with its refreshing green parks and walkable trails to enjoy and explore.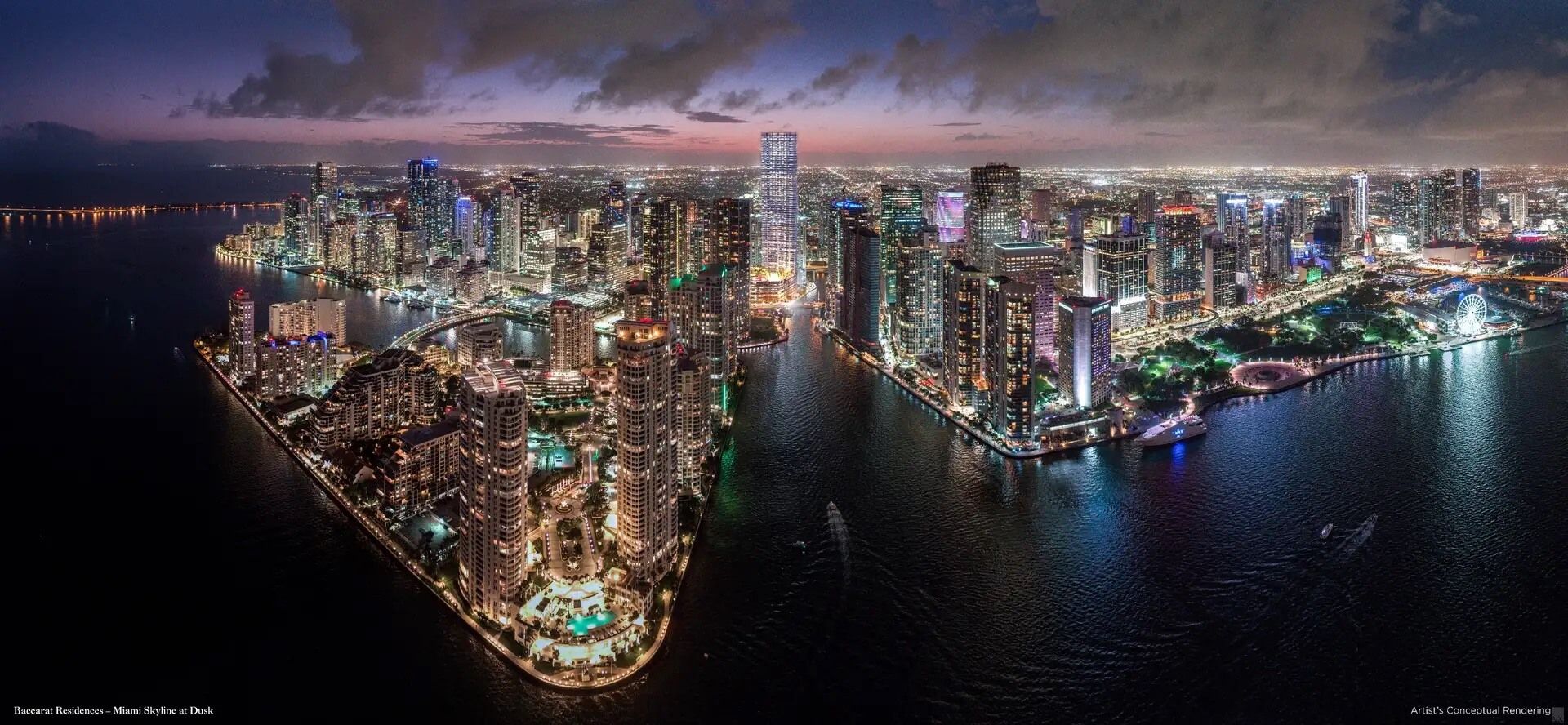 Highly-Curated Deluxe Features and Amenities
Residents are a privileged set to avail and enjoy the highly-curated features and amenities at Baccarat Residences. These are tastefully curated services by Baccarat Hotels and Residences and managed well by the renowned SH Hotels and Resorts group.
If you're after comfort, ease, accessibility, and relaxation - all services and amenities here are nothing short of it. Every amenity is well-thought-of to cater suitably to its target market, a distinct set of residents. These people are on the go but can find time basking in these extensive, superior amenities.
As residents will have full access to an unparalleled array of services, the in-house staff will be there to help. In addition, the residents will always feel inspired and at ease knowing that they conveniently have these offerings. How's that for a real treat in your home?
Baccarat Residences will have residences ranging from 1,330 square feet to more than 7,000 square feet. Plus, each home has private elevator access.
A beautifully landscaped, secluded private entrance leads to the riverfront arrival court and a stunning porte-cochere entrance on the outside. In addition, there is a gorgeous waterfront promenade and private marina. You can also find a curated museum of remarkable art collections in all the building's public spaces.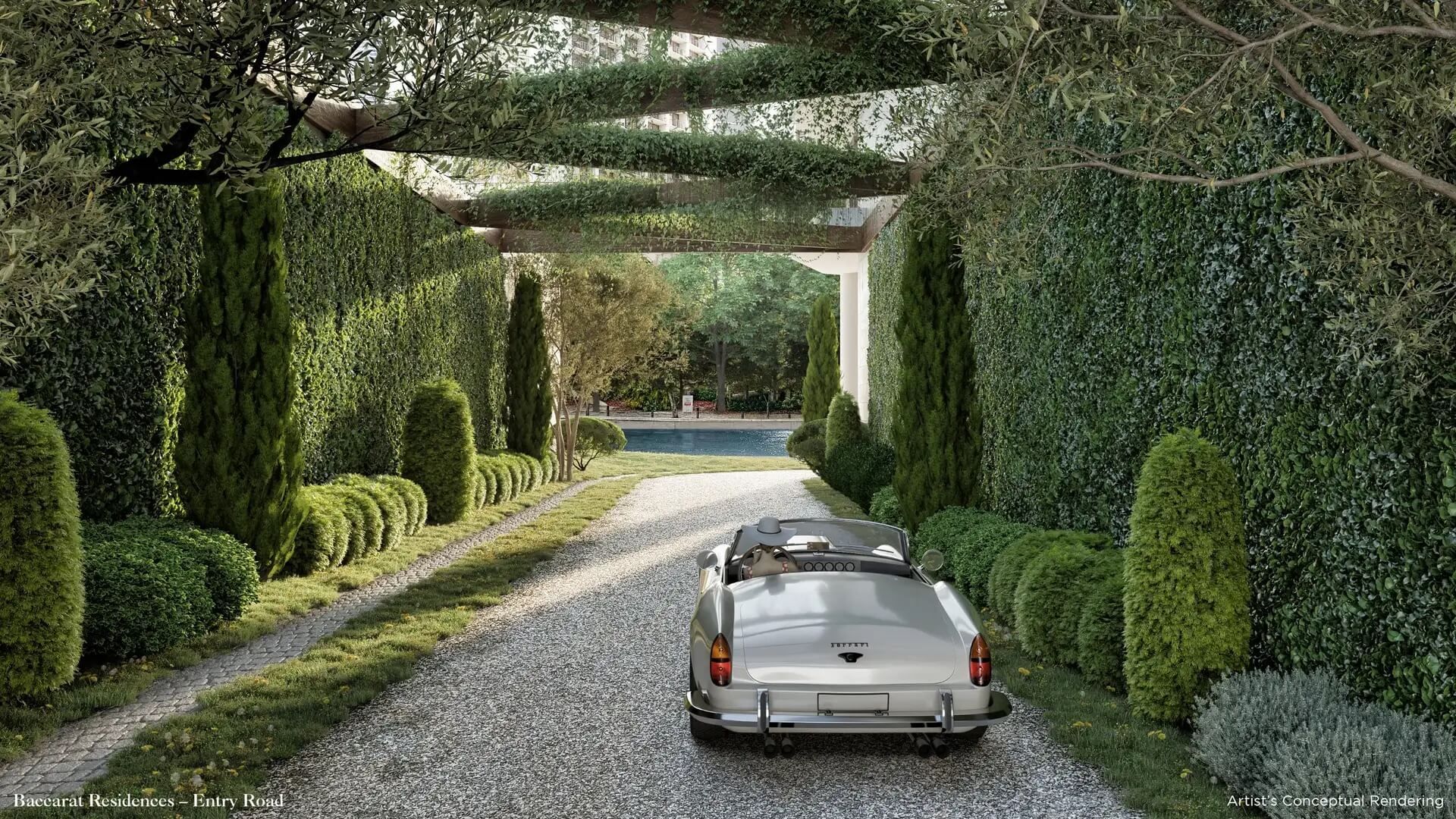 A well-appointed entrance lobby with gloriously high ceilings will enthrall you as you enter. Then, one goes directly to each residence's rows of double private elevators. These elevators have private key activated access, leading to entry foyers opening through in all homes.
Baccarat Residences' open-concept and flow-through floor layouts feature one- to four-bedroom residences, including the elegant penthouses. These units are all exquisitely designed with a smooth finish, so they're ready any time for occupancy.
Besides the panoramic views of Biscayne Bay, the Miami River, and the Miami skyline from each residence, the following are the features you will love:
1. Floor-to-ceiling sliding glass doors and windows: all energy-efficient, tinted, and impact-resistant;
2. Eight-foot-deep extensive private terraces (all accessible from the living and primary bedroom areas);
3. Wrap-around terraces for corner residences with total glass railings for unobstructed views;
4. Ten-foot high ceilings of smooth finish on floors up to eleven and twelve feet for penthouse levels;
5. Solid core wood interior doors for improved soundproofing and energy efficiency;
6. Smart Building advanced technology for Wi-Fi, cable satellite video, and data/voice;
7. Spacious primary bathrooms with stand-alone bathtubs, glass-enclosed rain showers, premium Italian cabinetry, imported stone vanity tops with double lavatories, and decorator mirrors;
8. Generous walk-in closets fitted with Italian cabinetry for "his" and "hers" in every residence's primary bedroom;
9. Open concept gourmet kitchens with island and breakfast bar, all featuring Meyer Davis Studio's custom-made Italian cabinets with excellent choices of stone countertops, full backsplashes, and finishes;
10. High-end quality kitchen appliances like Wolf induction cooktop, Wolf M-series modern oven & steam oven, Sub-Zero freezer/refrigerator, Sub-Zero wine storage, and Cove dishwasher with cabinets will make you love your kitchen even more.
Wellness is a priority of Baccarat Residences, so it offers DARWIN. DARWIN is a Home Wellness Intelligence Network, and its highly modern features can enhance one's energy, air quality, sleep, and total well-being. Indeed, this is an avant-garde environment dedicated to its residents' complete wellness.
For the outdoors, residents can look forward to the landscaped waterfront promenade, the private marina, and the signature riverfront restaurant. These amenities invite people to take a break, relax, and enjoy the outdoors. You may stroll towards the bay while appreciating the majestic sunset at dusk. Visit the trendy waterside restaurants through the private taxi service for a special lunch or dinner.
Residents may also enjoy the exclusive membership and private access to the Beach Club at 1 Hotel South Beach, a sister property of SH Hotels and Resorts.
Anticipate the fun breaks and leisure times ahead for you and your loved ones at Baccarat Residences.
For the rest of the luxury amenities for the residents, please take a look at the complete list below.