To date, Brickell has been evolving and flourishing. Several high-rise condominium residences, rental apartment structures, office towers, business centers, hotels, and tourism establishments have all been growing steadily in the city. The skyscrapers are getting taller by the day – enough proof that this city's economy is robust and continues to boom up to this day.
Brickell, a neighborhood in Miami-Dade County is touted as one of the best neighborhoods to live in Florida. It is teeming with different restaurants, bars, coffee shops, and parks. The young professionals mostly prefer to live here, especially the vibrant set. Brickell District is a walkable town affording the locals with a ton of activities to see, do, and enjoy. Here's more: it is one of the safest neighborhoods in Miami. The fact is the crime rate in Brickell (as well as the rest in Downtown Miami) is 25% lower than the country's average.
Location
Brickell is one of Miami's oldest neighborhoods. This neighborhood is bordered to the North by Miami River, the Rickenbacker Causeway to the South, and Biscayne Bay to the East, and I-95 to the West. This town is a hub of the Latin American financial industry. It is constantly thriving through the years as it has changed completely through time. Truth to tell, there has been an unprecedented development boom during the last twenty years. It is home to many of Miami's foreign consulates and condo-dwelling professionals and small families. Historically, it began as a luxury mansions neighborhood until becoming such a dense city, south of Manhattan in Miami. It has been hyped as the "Wall Street South" as real agents observe that this city continues to attract the younger set as many modern restaurants, bars, and of course, condo towers continuously open up in the area.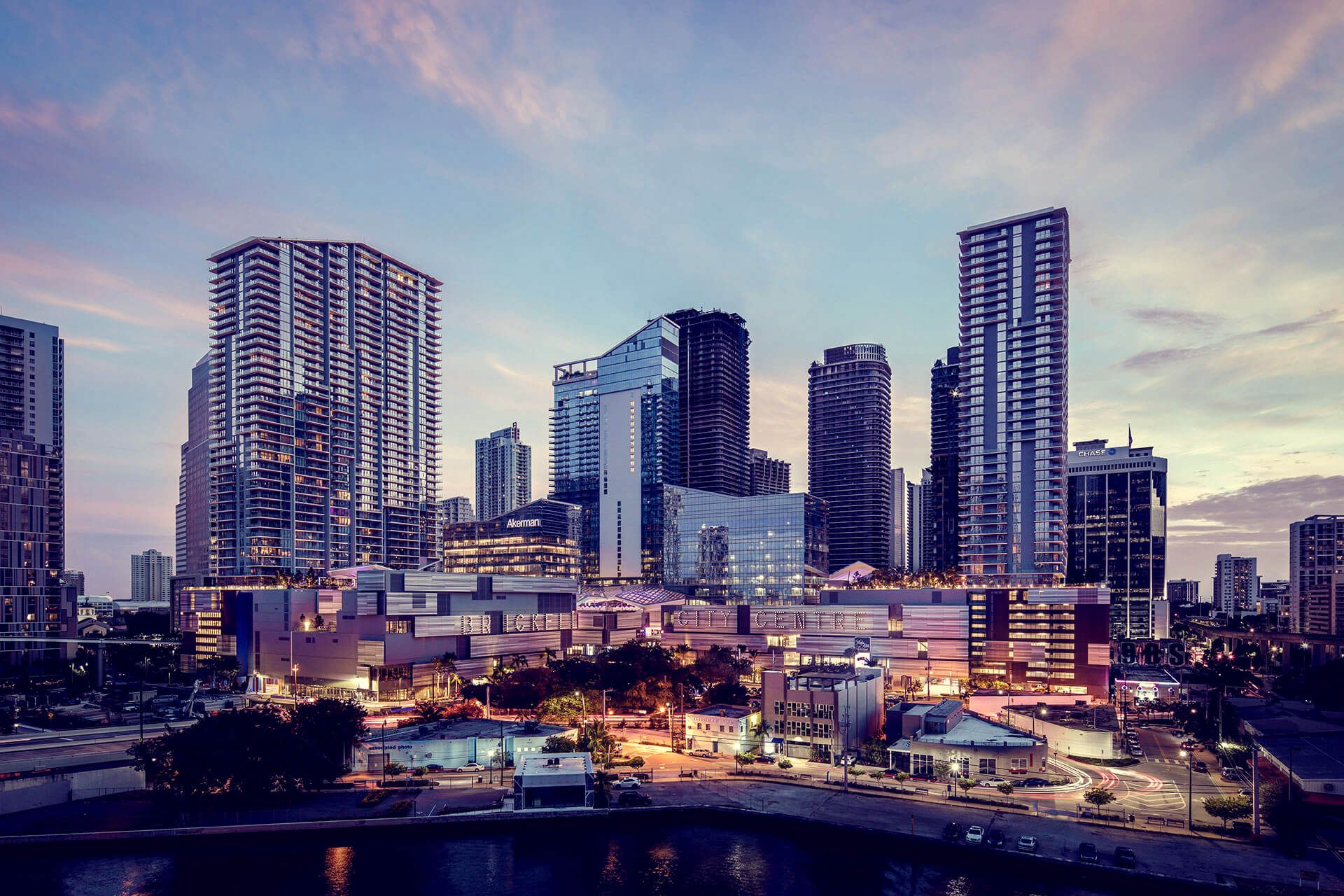 Amazing Lifestyle and Lively Vibe
As Brickell is the city's financial center – you can always set your sights on the stunning business towers and luxurious skyscrapers around Biscayne Bay for your daily views. It's a common scene for the young professionals and businessmen converging in rooftop bars and 'surf-n-turf' grill restaurants. The trendy ladies are in the chic boutiques while the creative guys are in the art galleries or art shows. All through these is a backdrop of the Brickell Avenue Bridge traversing the Miami River with splendid views of the archaeological site and Miami Circle Park.
At Brickell District on weekends, it's a usual spectacle to observe family gatherings with people of different ages enjoying their meals in restaurants, or just chilling out in coffee shops and parks.
You can reach effortlessly most of the modern conveniences on foot. If you stay in Downtown Brickell, you can easily live without a car. There is transit accessibility with both Metromover and Metrorail, helpful for you to move around, or perhaps, try a bus or Uber as your best transport to the beach from the mainland.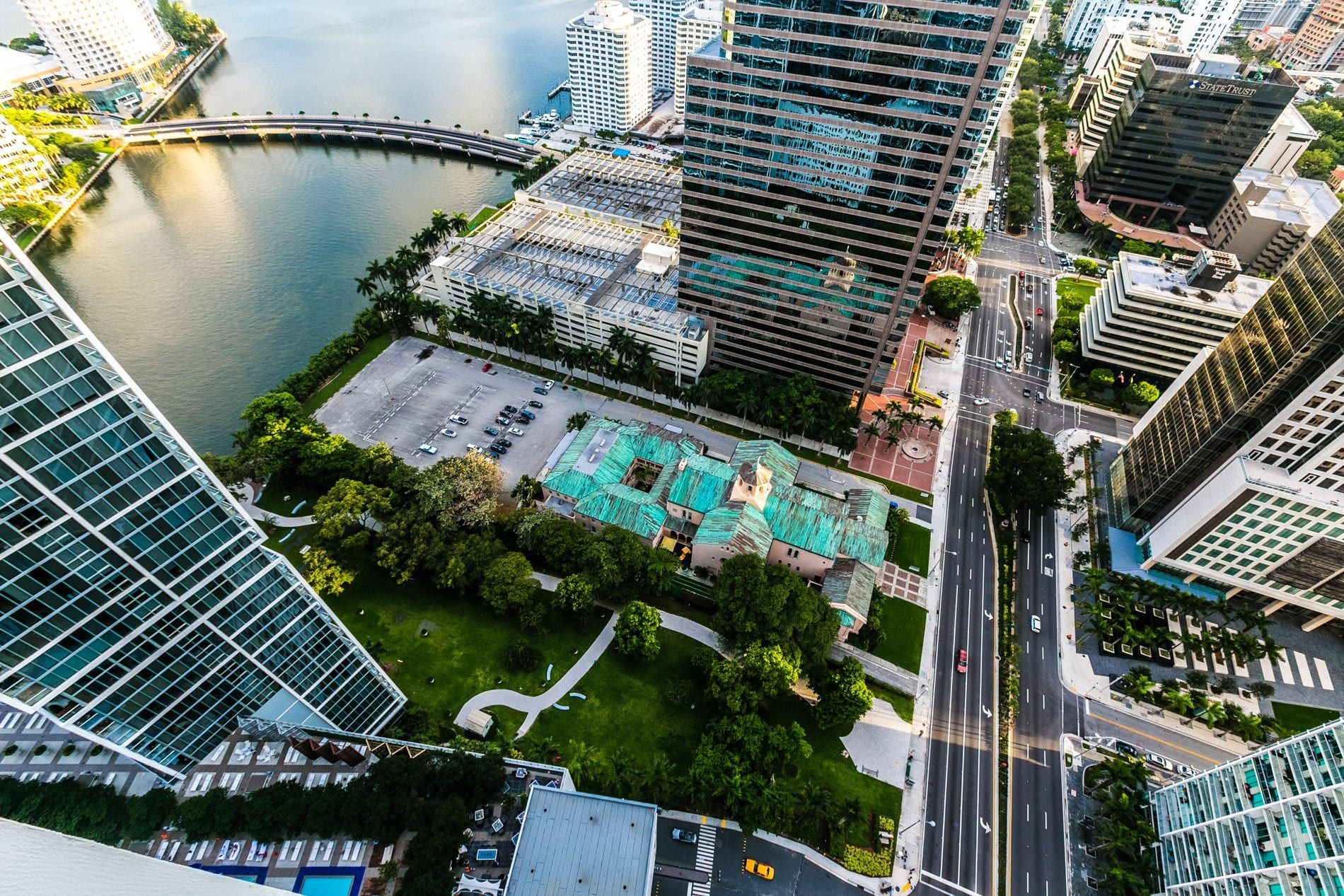 Brickell makes locals feel and look their best all year-round with their highly-rated choices of salons, spas, and gyms. Unwind all you might with these superior offerings within the neighborhood. Pop into these places anytime as you go through your downtime, alone or with your loved ones and friends.
Want to experience this amazing lifestyle? There are many condominiums for sale and condominiums for rent at Brickell, namely Icon Brickell, Echo Brickell, Brickell Heights East, and
The Plaza at Brickell
.
Arts, Culture, and Shopping
At Brickell, shopping is a pleasure with various choices. Some of the most popular shopping destinations are The Shops at Mary Brickell Village and The Brickell City Centre. Check them out:
•
The Shops at Mary Brickell Village is one lifestyle complex beautifully designed with open-door establishments in the heart of the community. You can also listen to live music here. Over the years, it is well-known for its refreshingly hip stores and restaurants. You can go on foot or reach this place through Miami Metrorail and Metromover. Many people feel more relaxed here because the Miami vibe is so pervasive due to its outdoor setting.
•
The Brickell City Centre is a posh destination for upscale shopping, entertainment, and dining. You will find a lot of lodging and accommodations, plus corporate offices in this complex. If you want to splurge on some of the world's biggest and most popular brands, this is the place. You could have shopping sprees with benefit of a gorgeous view as you watch the high rises on the other side of the river. Besides that, it has underground parking, too.
But know that Downtown Brickell is not all that dining, shopping, or bar-hopping. In the North of this neighborhood is a Museum Park which hosts music festivals. This is also where two of the newest Miami's museums are found like The Philip and Patricia Frost Museum of Science and Perez Art Museum, Miami. For those who have interests in science and arts, these are venues waiting to be discovered. There are engaging exhibits for adults and kids of all ages as well. Everyone is being encouraged in the district to hone each of their passions and interests.