What if you suddenly wake-up to up to a full sun above your window's view? A spacious, stylish bedroom is where you are as you slowly walk up to the floor-to-ceiling windows and eventually take a glance at the stunning Miami River at the backdrop. A serene, colorful setting – a prelude to a busy day ahead. This is what a usual bright morning at Neo Vertika in Miami looks like. How else can this be more exceptional?
Neo Vertika is an elegantly designed building offering one-story traditional condo units and two-story split units. Your choices are residences for one, two, and three bedrooms which have a range of sizes from 602 to 1,387 square feet. The split units are composed of two levels with open spaces of high ceilings and floating staircases. They open delightfully to the city's bright lights cascaded by the floor-to-ceiling glass walls. Such a captivating sight!
This contemporary urban structure with maximized spaces is the work of an award-winning group, the renowned Revuelta, Vega, and Leon architectural firm. Their mastery is close to perfection as Neo Vertika is one skyscraper to behold in the entire Miami.
Location
This 36-story building is located at 1st Avenue, Miami. Because of its proximity to the Miami River, there are many options for outdoor activities. You may take your family along with your pets any time and go to any of the public parks situated in Brickell.
Due to its central location, entertainment outside of Neo Vertika is also waiting for you. At a close distance is the big Brickell City Mall where you can go shopping or just while away the time with your family, friends, or colleagues. You do not have to spend a lot of time on the road to have a good time in one of these places, you just need to walk for a couple of minutes. The Metromover station is accessible if you're up to exploring more interesting places in Miami's warm and fun neighborhood. This transport helps bring you to other areas like Downtown Miami and it's free.
Interested and want to have this kind of neighborhood? We have properties here for sale or rent at Neo Vertika so check them out.
Neighborhood with Arts & Culture
Miami is undeniably a home to a dynamic gallery of art scenes, from international art fairs to spectacular art museums. You'll find here the kind of world-class entertainment and culture for those who love Broadway shows, ballet, and other dances, too.
There is the international Art Basel Miami Beach which draws thousands of artists and art fans from all over. You can drop by the Wynwood Arts District with the famous Wynwood Walls, an outdoor museum mostly for street art and groundbreaking artists. Another unique art place is the open-air Museum of Graffiti. One of the best places to explore in downtown Miami is the Perez Art Museum Miami which is a must-visit for modern and contemporary art enthusiasts and collectors.
The Adrienne Arsht Center for the Performing Arts usually hosts performances by resident groups such as Florida Grand Opera, Miami City Ballet, and New World Symphony. Watch with excitement as your favorite group perform for you.
Other interesting places for exploration here include the Phillip and Patricia Frost Museum of Science, Freedom Tower, and Museum of Art and Design at Miami Dade College.
You can also hie off to nearby South Beach. It is a very popular area known for its beaches, restaurants, and bars. South Beach, aside from the views – offers cozy cafés which you can visit for some quiet time. When everything seems crazy and hectic - head on to scenic Coconut Grove instead to enjoy the natural green sceneries and views of Biscayne Bay for the calming relief that you need.
Modern Architecture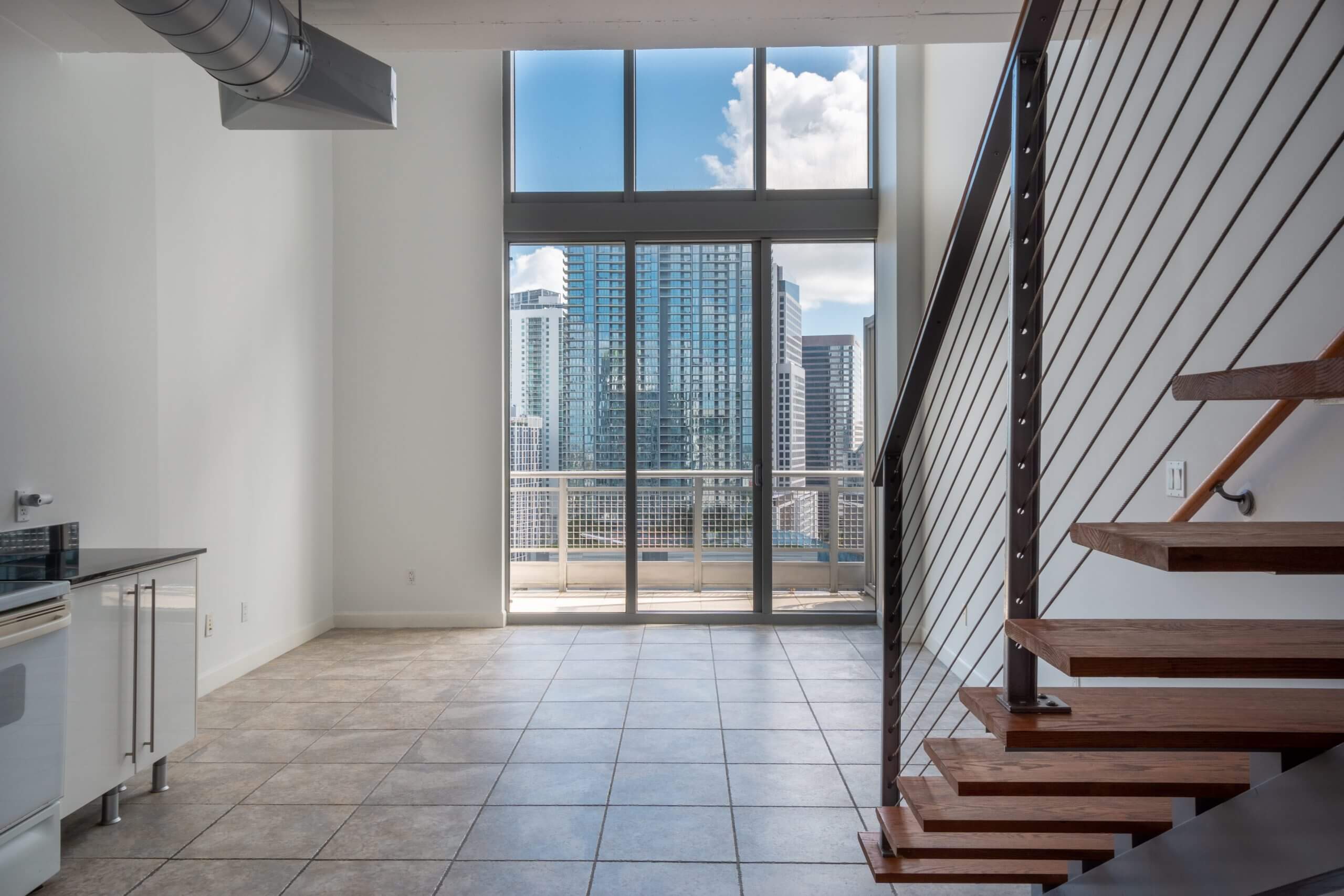 Neo Vertika stands tall, a fine modern architectural masterpiece with superior features and amenities. These
apartments feature floor-to-ceiling windows and high ceilings. There are private balconies you can choose from --- multi-story units and multi-level lofts. These residences are ready for moving-in already as they are equipped with high-quality Italian kitchen furnishings, washing machines, and dryers. These homes have functional stainless-steel appliances, too, so it's quite practical and convenient for the residents. The spacious balconies and panoramic floor-to-ceiling windows can turn your daily dose of sunrise and sunset into truly wonderful experiences like no other. Your expansive terrace is at 4,552 square meters, a space big enough for friends to come over for catch-ups. Dine with loved ones and friends with the best city and bay views.
Neo Vertika Condos For Sale and For Rent
Neo Vertika offers 443 apartments in all. If you want to experience a luxurious lifestyle, complemented with a host of superior amenities – now is the time to discover any of the condos for sale and condos for rent here.