A park that meets the ocean as your backyard awaits you. The building is designed to appear as if it's floating over the waves of the sea or lush of the trees. You step right into the beach with the pristine sand just a few steps from home. A dream? No need to imagine at all. Such sceneries describe a stunning landmark not to be missed at Miami Beach - the Eighty-Seven Park.
The ambiance is set for 70 apartments all suspended in the clear blue ocean of light and air. Tranquility resonates within the property, as palms even adorn the surroundings with their rich natural beauty and lushness. In a run of private and exclusive spaces, residents at Eighty-Seven Park will enjoy all the finest amenities and features fit for people with an enviable first-rate lifestyle. Bask in the warm, lovely Miami weather as you enjoy all the private pockets right in your own home – gardens, parks, terraces, pools, bars, a spa, a library, and lounges. Who needs to relax when every day is like a day of leisure? Want to live a lifestyle beyond compare?
Some FACTS about Eighty-Seven Park:
•
It is designed by no less than Renzo Piano, an Italian award-winning architect (Pritzker Prize). If you are not familiar with him, look him up and see for yourself his outstanding body of works worldwide.
•
The lobby is elegant, as it is wrapped in glass and a brilliant backdrop for both art and nature.
•
It has an abundance of spaces, both inside and outside if you're looking for expansive areas. There are open floor layouts and wrap-around terraces you will maximize to the hilt.
•
Each residence at Eighty-Seven Park is a work of art, with a premium finish and high-end fixtures.
•
This building speaks of a vibrant, refreshing community with a layout bringing together all these three elements: nature, architecture, and design.
Location
Located idyllically at Collins Avenue - along the border of the Atlantic Ocean and an estate, Eighty-Seven Park creates a refreshing harmony with the dynamic community of Miami Beach, with posh homes wrapped in light, air, and nature.
Set apart from the hustle and bustle to the South, the beach here is just as beautiful. The Atlantic Ocean remains breathtaking.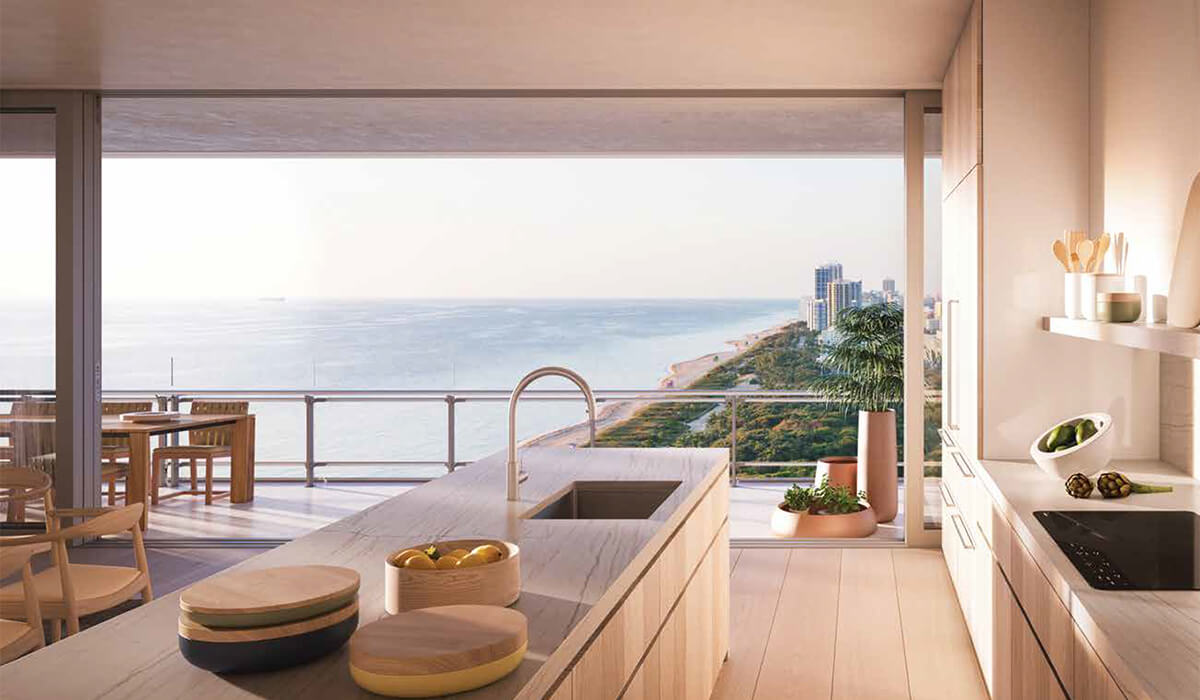 The active outdoor lifestyle is always filled with passion and enthusiasm. Less than a half-hour drive from the Miami International Airport, it is only just a few minutes away from the
Bal Harbour
Shops and a twenty-minute walk from
South Beach
. Everything is indeed just a stride away. But gauging from the amenities of this property, it's almost a complete community in itself so modern conveniences are easily accessible right where you are so no need to go out of your zone. Eighty-Seven Park's remarkable design, features, and amenities all complement its perfect location.
Exclusive Features and Amenities – a time to indulge, enjoy, and relax in style
Eighty-Seven Park's 70 Beachfront residences are evenly distributed in a total of 18 Floors, with residences from the 3rd floor to the 17th. There are 2 Penthouse residences on the 18th floor. All residences can have from one to five bedrooms and wide terraces. The full-floor residences' advantage is the 360-degree views of the park, city, ocean, and bay. These beautiful apartments range from 1,000 sq. ft. to 4,140 sq. ft. of spaces in the interiors. Speaking of interiors, nature is so much part of each unit as you have these materials: Italian stone, American oak, and the luminous clear walls of glass that spark the elegance in each residence. Plus, these units are finished so you can move in immediately. The buyers have options for European-influenced kitchens and bathrooms. Cooking with a view? Yes, it is possible as every unit will have an outdoor kitchen. Plus, the lavish wrap-around terraces pave for a seamless shift from the indoor to outdoor spaces, with these terraces occupying 60% up to 90% the size of the interiors. All residents for all units have access to a private elevator. With modern and spacious interiors, say the living room, makes it an ideal place for spending precious time with loved ones and entertaining visitors on special occasions.
Well, with all these features of an apartment with luxury in each detail – what lies ahead is pure bliss.
As Miami Beach's most desirable seaside home, Eighty-Seven Park is nestled in a 35-acre ocean park fronting the south (looking like an infinity garden) and an exclusive 2-acre park towards the north. Residents will surely love the quiet morning escapades by the ocean or in the cool shades of the trees in the park. Now you also know why you can get all-around views of the ocean, city skies, and park simultaneously. With the ocean and pools' ravishing blues, there's no other way that you can spend the day than gaze at them, breathe the fresh sea air, and most probably, cool off in the waters afterward. There are cabanas and a valet ready with a towel or a drink for you – a great way to unwind. Or if you plan to rest your mind, soul, and body for that much-needed recharging, escape to their Spa and Soul Center for that ultimate wellness experience. Another option is to go and flex your muscles at their state-of-the-art Fitness Center where there are individual and group sessions, health coaching, not to mention the latest gym equipment.
There are other indulgences you shouldn't resist:
•
Delight in the hot afternoons for cocktails at FUGO Bar with their refreshing coolers or maybe have some wine at ENOTECA Bar as you linger on with the views of the ocean and waves of the beach.
•
Have enough scrolling in your social media? Pause for the meantime from digital technology and find your next book to obsess at their wide range of collections at the Library Gallery.
•
Have an outdoor quest with nature and celebrate all your senses at their soothing private Park Garden.
What these amenities provide are like fancy thoughts blurring the reality. You can experience this firsthand with all the top-notch features as well should you decide to live at Eighty-Seven Park. Do not miss this chance – live the life you've always been wishing for.
For the apartments for sale or rent at Eighty-Seven Park Miami, please check the details below.