Do you want to experience a unique boutique beach condo living at its finest? How would you like to live in a luminous tower, where open spaces and rays of light are your daily sights? Then, take a peek at one of South Florida's prime properties, L'Atelier Miami Beach. It is right at this perfect location, an oceanfront paradise too beautiful to ignore.
L'Atelier Miami Beach is a masterpiece filled with timeless impressions and creative sensations offered to its discriminating residents. South Florida's ultimate glamor is interspersed with Miami Beach's exclusivity – these two elements will provide the elements of a comfortable, sophisticated living like no other right in this place.
The dreamy and flow-through residences evoke oneness with the ocean. Residents at the L'Atelier Tower can have that desirable front-row experience of the gorgeous blue waters a few steps away from their homes.
This prime development is co-developed by W Capital Group and SMG Management. It is tastefully designed by the renowned Luis Revuelta in collaboration with Holly Hunt for the interiors. The landscape design is by the highly-acclaimed Swiss architect Enzo Enea. The team behind this remarkable restoration of what used to be the famous Bombay Hotel is a gem, a genuinely outstanding team. It's great that they've maintained the historic property's façade, and it is not surprising that L'Atelier is indeed an iconic landmark in Miami Beach now.
L'Atelier tower's design is ultra-modern, one that reminds you of trend-setting, futuristic balconies infinitely intertwined with the ocean. It takes inspiration effortlessly from the ocean waves and nature around it.
L'Atelier Miami Beach offers 23 residences carefully distributed on 18 floors of the building. You can choose floor layouts from 2 bedrooms up to 6 bedrooms. Check their posh and impressive penthouse units for the super stylish and active lifestyle you want.
Just imagine raising your families in the most comfortable way – one that has elegance, convenience, modern technology, and deluxe amenities for everyone to enjoy.
Welcome to L'Atelier Miami Beach – a life of creative comfort, understated elegance, and endless possibilities await you here. Expect the best beach life you can have in Miami Beach at L'Atelier. This is the opportunity that you and your loved ones will have to discover, explore, and enjoy as you live your best life without looking anywhere but right inside your own homes.
Location
You can't miss the L'Atelier Tower at Miami Beach. Miami Beach encompasses the
North
, Mid, and
South
Beaches on the barrier island, making up this premium portion of the Miami coastline. It has been developed into one of the country's premier and preferred cities for resort and luxury condos through the years.
It is no wonder then that L'Atelier Miami Beach is located right at the heart of the city, Collins Avenue, a major thoroughfare in South Florida. It is a trendy, vibrant place that has proximity to many modern conveniences. Whether for dining, shopping, cafés, bars, galleries, entertainment venues, or business centers, everything is a short walk or ride away. There are also nearby exclusive golf courses, country clubs, and tennis courts for more adventures. Collins Avenue is also close to Lincoln Road and Ocean Drive, and both areas offer options for education, daycares, and entertainment. Across Biscayne Bay is
Miami Beach's Downtown
area, where you can spend fun nights away with great nightlife venues as options.
L'Atelier Miami Beach is in a perfect neighborhood – a fantastic choice for a home providing ultimate comfort and convenience to its residents.
Modern and Luxurious Features & Amenities
The units at L'Atelier Miami Beach are from 2,300 to 8,000s sq. ft. Each residence features lofty ceilings, 10 feet and 11 feet for choice units. They offer expansive balconies, too, with breathtaking views of the skyline and the ocean. As you drink your coffee in the mornings or eat your breakfast, isn't it wonderful to admire these scenic views? Or perhaps, if you do your yoga or home workouts, the ambiance is always calming. Imagine if every morning was like this – indeed, it is a paradise!
The residences have private elevators. Open, spacious balconies with an outdoor whirlpool spa connect the homes. Every unit at L'Atelier Miami Beach fuses a sense of infinity with modernity and the most updated technology using excellent furnishings and fixtures.
The living rooms have the best lighting – the natural outdoor brilliance, so there's no need for artificial lights. In addition, the windows are floor-to-ceiling and impact-resistant.
The luxury condo residences have the following offerings: the two bedrooms have 2.5 bathrooms, while the half-floor units have three bedrooms and 3.5 bathrooms. For the full-floor units, they offer four bedrooms and 4.5 bathrooms. Brace yourselves – the penthouses have six bedrooms and 6.5 bathrooms. Now, any of these floor plans are ideal for families, and the larger ones with more rooms are perfect for those families with an extended one.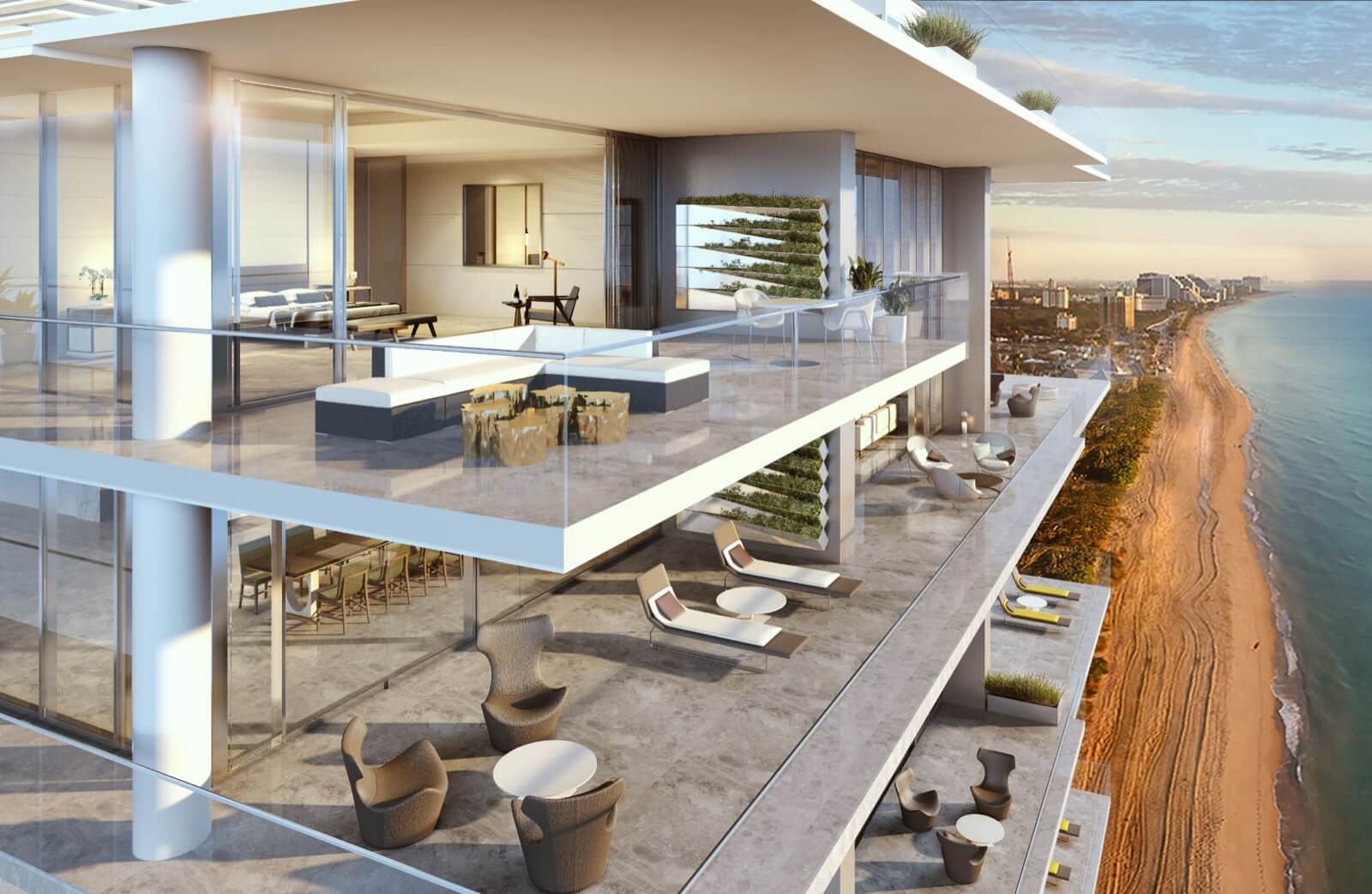 Bedrooms and bathrooms are both essential parts of a home. At L'Atelier Miami Beach, these rooms exude elegance with the marbled finishes. The bedrooms have spacious, beautiful walk-in closets and elegant wood floorings. The master bathrooms are spa-like with glass-enclosed showers and soaking tubs.
They offer gourmet kitchens – the high-end and ultra-modern Poliform kitchens equipped with state-of-the-art Gaggenau appliances. Who wants to whip up their favorite dishes right in this trendy kitchen?
Did we tell you that the penthouses of L'Atelier Miami Beach at the upper levels (specifically the 17th and 18th floors) have the following features: private rooftops, sunset bars, 40-ft. infinity pools, wine cellars, and summer kitchens? Aside from that, they're connected through a staircase and glass elevator with the 22 feet ceilings and 360-degree views. Fun and posh lifestyle at its finest! They are worthy of their price and the true testament to an utterly luxurious lifestyle.
L'Atelier Miami Beach offers its residents and visitors deluxe amenities, too. It has an exclusive beach area and an attractive infinity-edge beachfront pool. In addition, there's a 78-foot lap pool so that residents can choose between fitness or relaxation (or both). Oh, yes – the clear, blue waters are a delight!
Other amenities include a spa with treatment rooms, private cabanas, a pool bar, pool attendants, and a barbecue area.
You can have the best of both worlds – work and play. Residents can use a library and meeting room in their job or business, which L'Atelier gladly offers.
For a complete list of amenities, kindly check the list down below.
Are you interested in owning one of the exclusive residences, or perhaps, a penthouse unit at L'Atelier Miami Beach? Then, you are getting to the most exciting part of your dream! Enjoy life to the fullest.
Check L'Atelier Miami Beach now and see for yourself what it offers.
L'Atelier Miami Beach apartments For Sale and For Rent
Broker One
always keeps up-to-date inventory of L'Atelier Miami Beach condos for sale and for rent. Explore available units, see the pictures and property information. If you have any questions, please don't hesitate to contact us.