You must have heard of this impressive tower right at the center of Miami Beach. So many names have been thrown at this magnificent property. An iconic, visionary building built by an-A team of experts in the real estate world. A spectacular penthouse that you will love. A life of well-being and an elegant lifestyle anyone can look forward to in this development. 57 Ocean is the most modern residential paradise of today in South Florida. The location is superb – right at the millionaire's row of Collins Avenue, no less.
Indeed, it is a welcome addition to the most sought-after and pure pristine stretch of beachfront real estate at Miami Beach. You will adore every bit of the property, from its lush, tropical foliage to the natural materials of the interiors down to the outdoor spaces, which seem to be an extension of your home. Yes, each residence evokes open and spacious terraces to lead to the stunning sights of the surrounding nature and waters.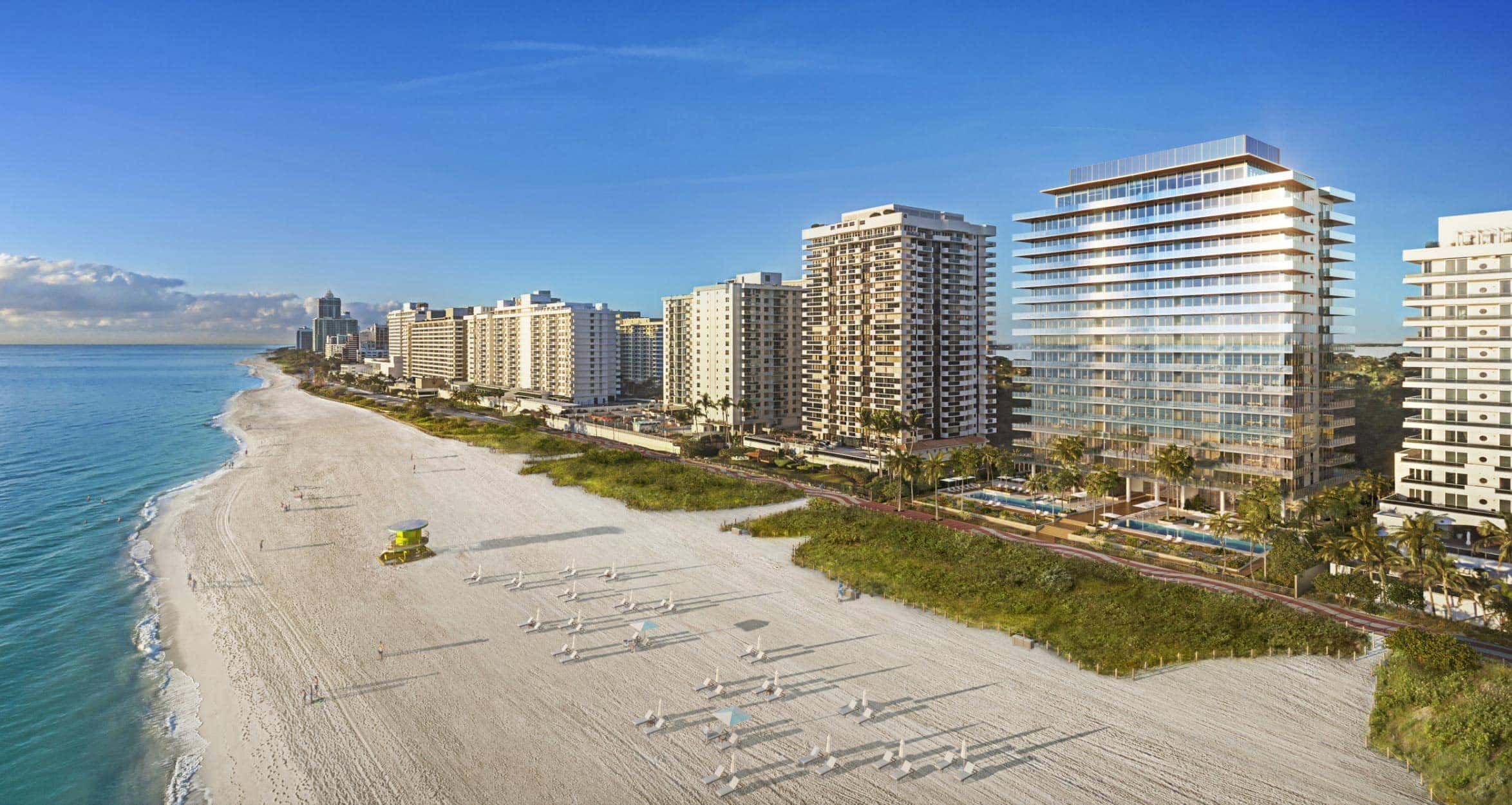 57 Ocean Miami Beach has its visionary, globally-recognized developer Jose Isaac Peres and his Multiplan Real Estate Management as its developer. Architecture is by the renowned Arquitectonica and interiors by Anastassiadis Arquitetos. Throughout his career, Mr. Peres has developed over 35,000 residential condominium units in over 350 projects within Brazil and South Florida, with a particular focus on sustainability. 57 Ocean Beach is no exception.
These luxury condos are nestled between the water and city, with each window a view to appreciate and behold. You will enjoy the panoramic views of all three - the Biscayne Bay, the Intracoastal Waterway, or the Atlantic Ocean towards the city's breathtaking skyline. These remarkable beachfront residences are not just condos but certainly more than that. Every amenity has been carefully chosen and curated to provide a healthy life and a well-rounded lifestyle to its residents. When you are here at 57 Ocean, you will immerse in indulgence while taking care of your well-being at the same time. See for yourselves: a therapeutic spa, pools, state-of-the-art fitness gym, and training areas for Pilates and Yoga, among many others. These facilities are part of a package of deluxe amenities to ensure a self-caring lifestyle.
The start of a good life begins here at 57 Ocean in Miami Beach. So, make it happen, and do not lose the opportunity of having the comfort of a balanced well-being with an active mind, body, and soul. There is always a time to refresh, relax, recharge, and rejuvenate in style at 57 Ocean in Miami Beach.
Location
57 Ocean Beach is right at the millionaire's beachfront row at Collins Avenue in Miami Beach. Many have recognized Miami Beach as a city with high quality of life, with so many people making it their home. It is also a center of commerce, art, culture, and recreation. It is a youthful, vibrant, and friendly neighborhood.
Modern conveniences are abounding and accessible. Top dining destinations are nearby as there are also upscale shops, trendy hotels, and lively bars. In addition, there are parks and other places of leisure within the vicinity. The posh
Bal Harbour
Shops are a short distance away or maybe go to the Lincoln Road Mall. People here walk, bike, and run on landscaped paths. Some would also paddle, kayak, and jet ski on the surrounding waters. The city's attractions include these places of interest, a few minutes away from 57 Ocean: La Gorce Country Club, Miami River Waterfront, and Oleta River State Park. At the southernmost tip is another park worth visiting – South Pointe Park. You can watch ships go by here for those lazy days or maybe spend a day cooling off at the water park. The New World Center, where live concerts and films are anticipated during summer for performing arts, is also an exciting spot nearby. So, you know you have somewhere to go near your home at 57 Ocean that will spell both fun and excitement.
The location at Collins Avenue is so convenient; when you're at 57 Ocean, you can quickly go to the Miami International Airport and nearby prime neighborhoods, such as
South Beach
,
Downtown
,
Wynwood
, and
Brickell
.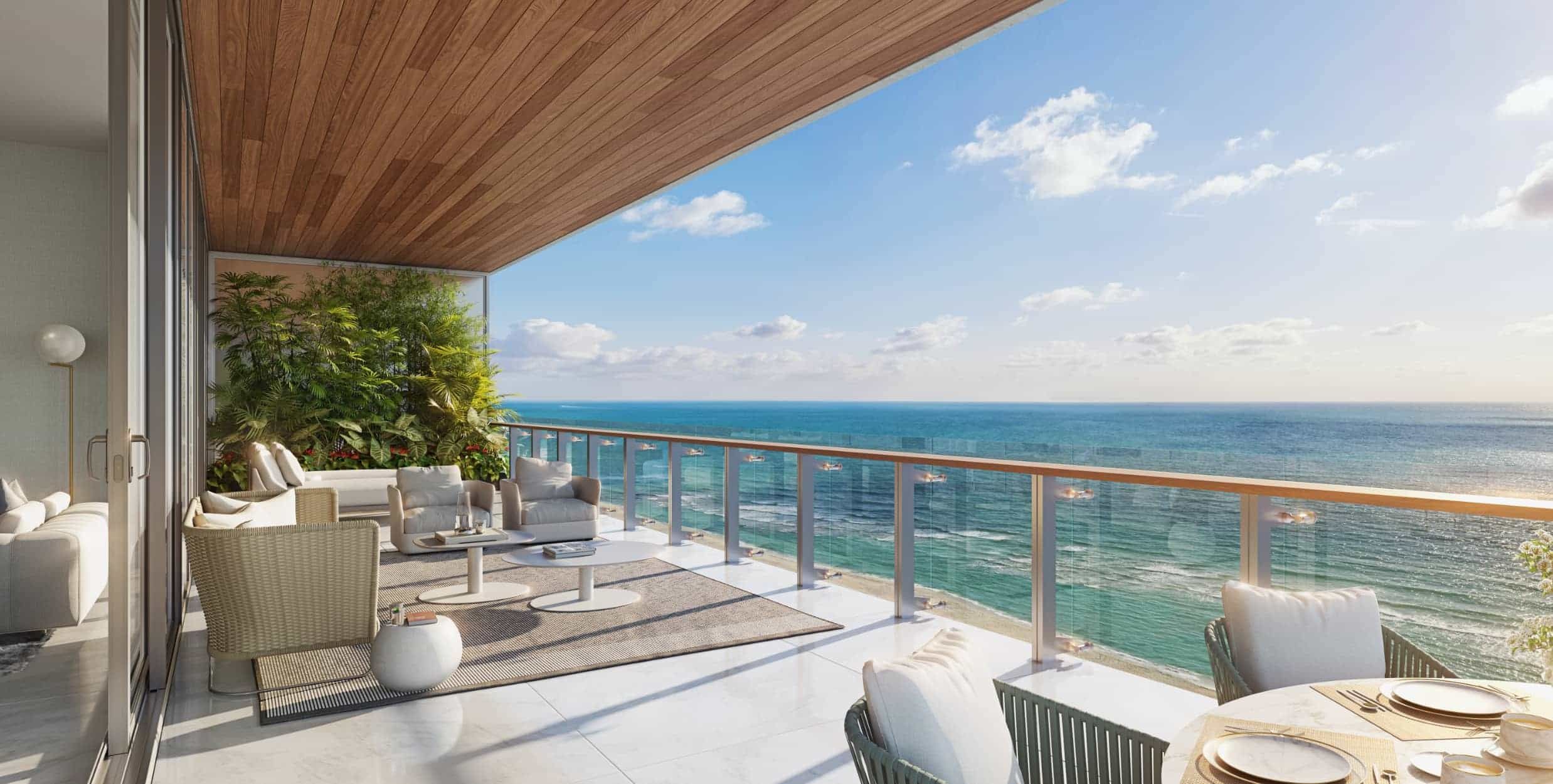 Modern, Highly-Curated Features & Amenities
Most residences at 57 Ocean have two to four bedrooms, with sizes ranging from 1,245 to 3,623 square feet. The Beach Houses have four bedrooms with 4.5 bathrooms, while other residences have three bedrooms and 3.5 bathrooms, and two bedrooms have 2.5 bathrooms. The Sky Residences on the upper floors have four bedrooms and 5.5 bathrooms. But best of all, the penthouse residences have five bedrooms, a den, and six bathrooms. Can you believe that? Nowhere can you find homes in this area as spacious as 57 Ocean.
The height of the ceilings is towering at 10-feet, while floor-to-ceiling windows showcase the invitations to the nature beyond. Each unit has an open floor layout which allows the merger of all rooms: living and dining rooms, plus the kitchen, all beautifully interconnected. The union then seamlessly flows through an expansive terrace – which doubles as an outdoor living room perfect for either entertaining friends or relaxing with loved ones any time of the day.
The master bedrooms are so spacious, with "his-and-her" bathrooms. Master bathrooms feature wall tiling, natural stone floors, floating tubs, double vanities, and spa showers. Open walk-in closets are accentuated with modern tropical designs with a Brazilian touch. Plus, there is terrace access.
The kitchens are gorgeous with luxury Italian-designer fixtures, Sub-zero refrigerators, Wolf cooking appliances, etc. In addition, there are wine refrigerators in ocean-facing residences.
Both indoors and outdoors, all these elements somehow exude the incomparable ambiance of warmth, elegance, and comfort. Perfect for a modern beachfront home, 'right?
Need more inspiration? Oh well, the penthouse will surely fit the bill. The sea, the sky, and Miami Beach's sparkle unfold into a full-floor residence for you at the penthouse. Check these features: attractive personal spa, seamless indoor-outdoor entertaining, and panoramic ocean views. In addition, there is exclusivity and unmatched contemporary style, both in harmony to satisfy all your senses. The spaces here are open, well-defined, secluded, and private – all these characteristics describe how the meticulous and innovative design is an ideal setting for all your social gatherings, whether intimate or not.
In addition, some more exciting residence features at 57 Ocean include the following:
• Two Beach Houses on the 3rd Level have private expansive sunset terraces and outdoor summer kitchens.
• Two Penthouse Residences offer private rooftop pools and summer kitchens.
• Sky Residences are on the upper floors with commanding ocean and city views.
If there's one thing that can best describe the well-curated amenities at 57 Ocean at Miami Beach, they're mostly centered around the well-being of their residents.
The connection to the ocean - this is the basic design of every space at 57 Ocean Beach with its amenities. Residence owners can explore from the lobby and quickly walk, bike, or run through Miami Beach Walk. There is an expansive pool deck with two pools, a social lounge, cabanas, and an outdoor bar, all within this area. These elements are blended beautifully into the 220 linear feet of beach. The transition from the pool to the beach is continuous and natural since the ocean is just a few steps away.
At 57 Ocean, you will appreciate a complete indoor-outdoor experience at the so-called Wellness Pavilion, offering a host of facilities: aromatherapy saunas, treatment suites, ice fountains and showers, steam rooms, relaxation and meditation areas, oceanfront Wellness gardens, and more. In addition, there are experts you can book for treatments through your full-time Wellness Coach. There is a sunlit library overlooking the ocean when you want to nourish your mind. There is a Chef's kitchen and an exquisite Club Room for the food lovers if you're going to host big or small private events, aside from a summer kitchen with a trendy grill area.
How would you like to experience all of these amenities and services? Impressive isn't it?! You may want to own a unit or opt for a vacation home as an investment. 57 Ocean is the most worthy, beautiful investment you can have.
Please go over the list below for a complete list of the superb amenities at 57 Ocean.
57 Ocean apartments For Sale and For Rent
Broker One
always keeps up-to-date inventory of 57 Ocean condos for sale and for rent. Explore available units, see the pictures and property information. If you have any questions, please don't hesitate to contact us.