You must be figuring out which is the best neighborhood for you if you are to choose one in the heart of Miami in South Florida. There are many options – but there's one that's enigmatic and unique in the truest sense of the word. It might be small in size but makes up for its might in creativity and good vibes. This lively, interesting community that could be a great choice for you is Wynwood.
Do you know that Wynwood was once a simple warehouse district, a home to different wholesale garment shops, car shops, run-down factories, and other industrial establishments? Oh well, look at how it has transformed to the Wynwood of the present – chic art galleries, hip boutiques, unique bars, cool restaurants, and of course, one of the world's most extensive street art backdrops you can be in awe of. It is one community worth spending time strolling around. Take your time as you might end up being in love with this charming dreamland of shapes, colors, and designs, and who knows – you might decide to move right in (not an unlikely idea!).
If you're looking for the right neighborhood where the surrounding vibes complement your lifestyle, then Wynwood is a perfect choice. If you're someone passionate about the arts, a foodie, walking or biking enthusiast, a lover of fun choices – check out Wynwood. In this neighborhood, you can constantly see and appreciate fine art, sample delectable cuisines, spend great night outs with friends, and wander around with such bright and refreshing views around.
At present, the Wynwood neighborhood has proudly become the city's cultural hub teeming with galleries, boutiques, trendy restaurants, quirky bars, not to mention one of the world's most eclectic street art scenes. It is one community that has seen its worst in the past. It has transformed into a booming locality as it continues to flourish now.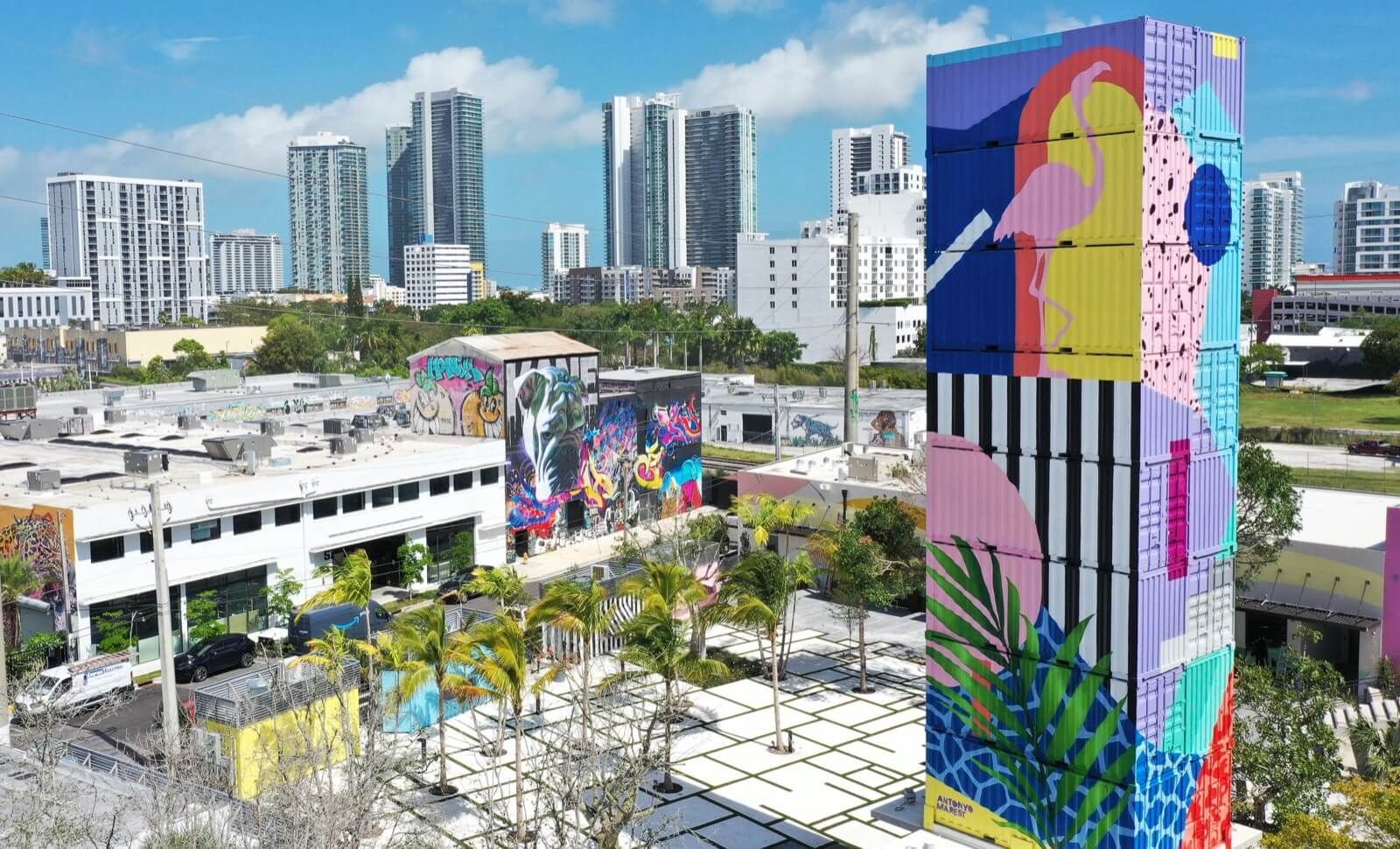 Wynwood besides being hailed as one of the most Instagrammable places in Miami by the younger set has one drawback though. This is the traffic in and around the Wynwood one has to contend with, especially during busy hours. On the bright side, it just means that there are quite a lot of tourists who make Wynwood a regular part of their itinerary in South Florida. Locals are just as dynamic and excited with all the activities within the area. The most sensible way to get around and see Wynwood (more so to appreciate fully its street art) is to do it on foot. Instead of navigating the little streets riding a car, it is better to walk which most people do. But in case you are driving, public parking in a sprawling space called Wynwood Garage (which by the way is one form of edgy art as well) is available. Or find paid street parking. Exploring the area by bike may turn out to be a better option – you may go ahead and rent one at Citi Bike Miami or perhaps, catch the free City of Miami Trolley ride.
Location
It is separated roughly to the south by North 20th Street, I-95 to the north, Florida East Coast Railway to the east, and I-95 to the west.
There are 2 major sub-districts here: Wynwood Art District on the northern side of the district and Wynwood Fashion District on the west 5th Avenue.
Wynwood is easily accessible - you can reach the Wynwood Art District and the Wynwood Walls about 15 minutes from Downtown, Miami's north side. It's a quick 10-minute drive or you may wish to hop on the free City of Miami Trolley to be in Wynwood in less than 15 minutes. If you're in South Beach, the distance is 4 miles or approximately a 20-minute drive away.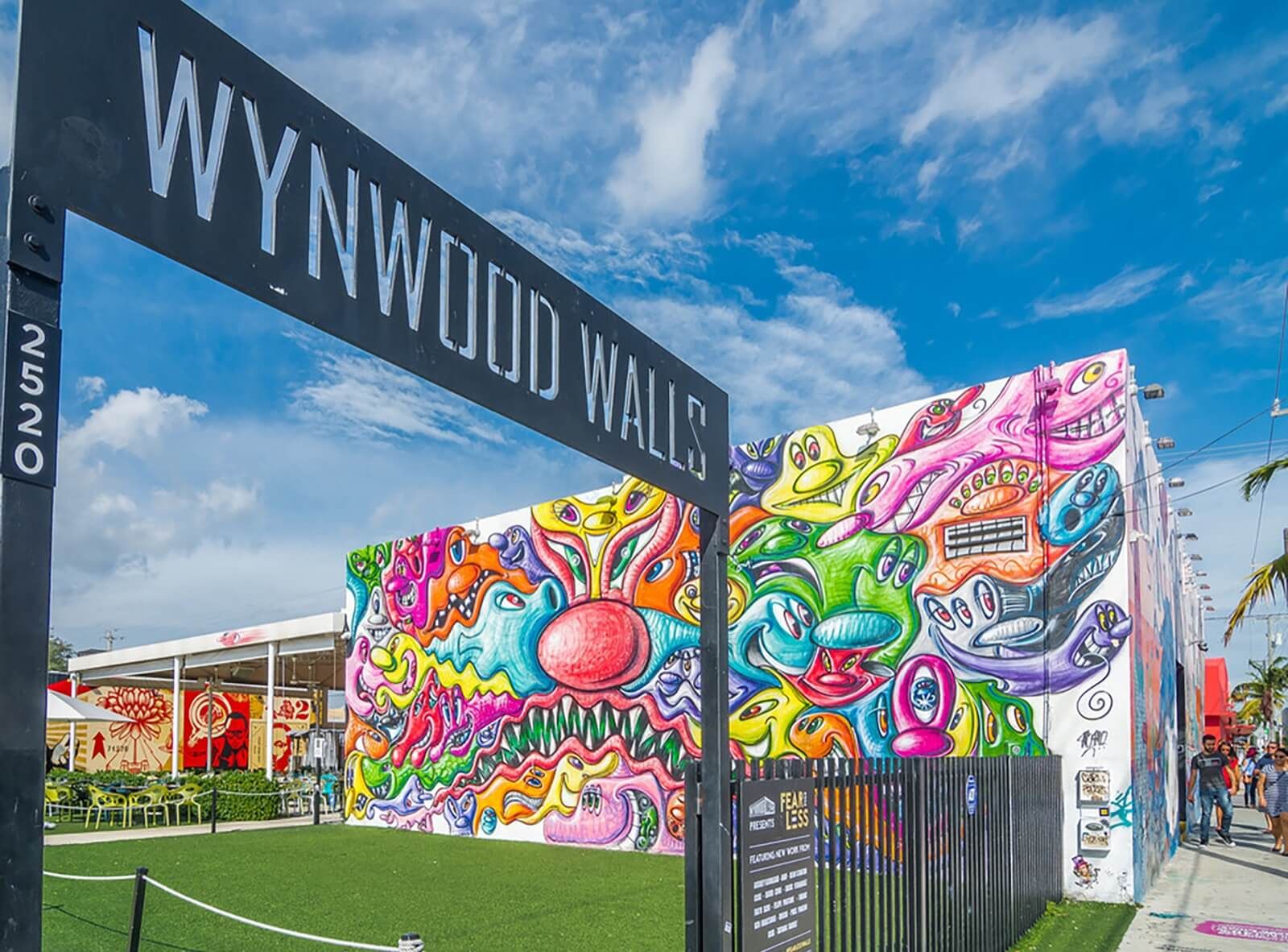 Lifestyle Appeal: Arts, Events, and Culture
No doubt, Wynwood's top attraction is its art with its renowned Wynwood walls scattered all over the place harmonized by food, culture, shopping, and nightlife. Do you get a total picture of how this community feels like?
Here are some of the TOP events and places you shouldn't miss and enjoy:
Wynwood Art District Neighborhood Murals
As you wander through the Wynwood neighborhood, remember to not only look up but glance downwards as well (sidewalks, trash bins, benches) as graffiti murals are spread through evenly across everywhere else in the Wynwood walls. There's art in almost every nook and corner. Everything is quite visually appealing here as you take your turn. You'll get a new creative experience every time. Have you wondered then why Wynwood is considered the "biggest art gallery" in the world? Spot on!
Know what? These designs are not permanent and they vary so if ever you'll be here the next time around – you'll find something unfamiliar and different from what you saw in the past.
The best part of all this? It is FREE to explore the Wynwood Art District Neighborhood murals. But don't forget to bring cash with you as you might get hungry after looking at these beautiful art scenes– you can have an appetizing meal in one of the eating places here. Or grab some refreshments after all the walking. Enjoy the food and drinks as well since the restaurants are promising, too.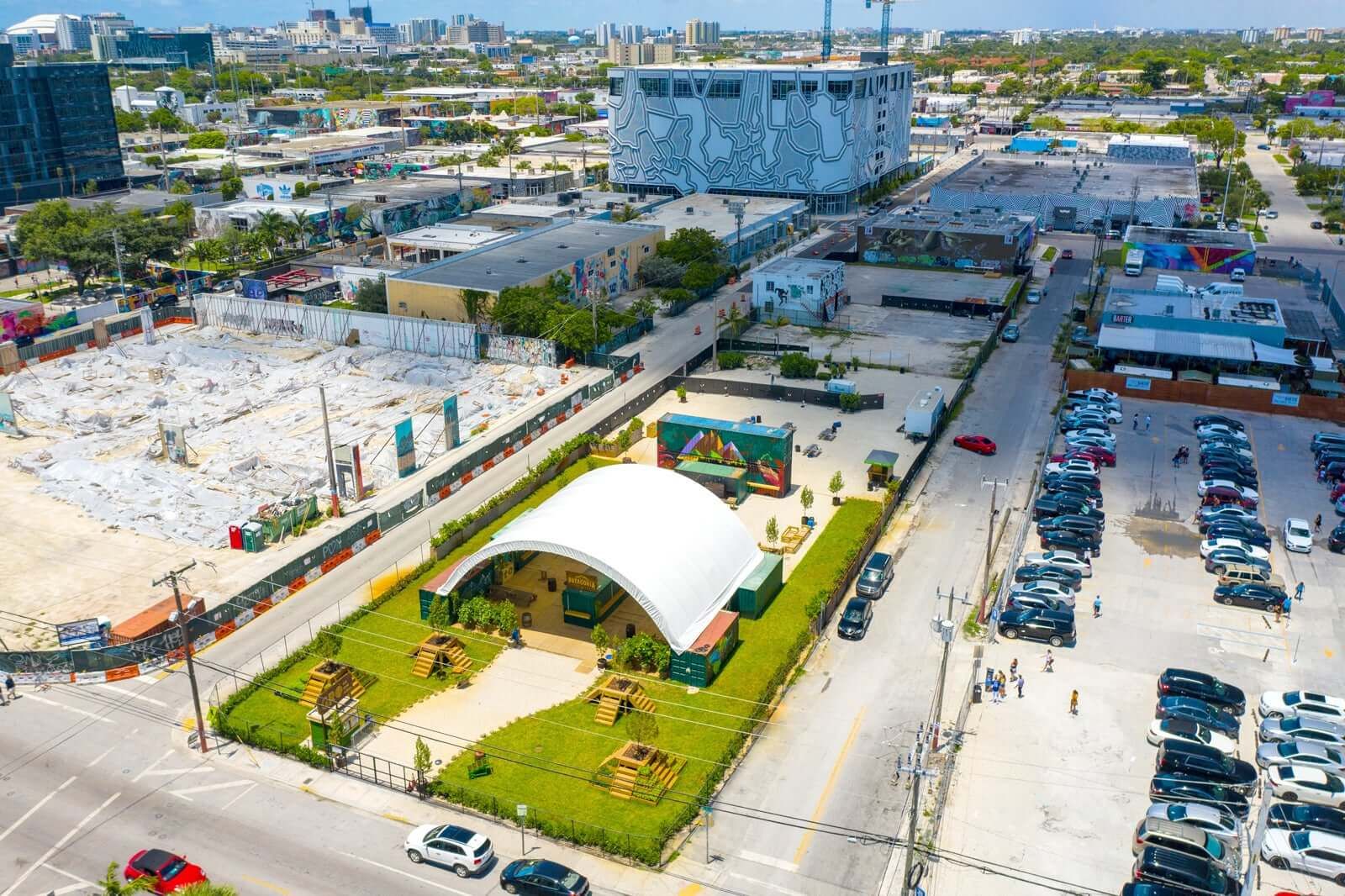 Wynwood Art Walk
Weekends are often anticipated but in Wynwood, every second Saturday of the month is a little extra. If you want food, culture, fun in the streets, and enjoy Miami's art scene – go to the Wynwood Art Walk. It starts at 6 PM that extends throughout the night – this monthly activity is a mix of everything you can enjoy and spend a great time: opening of several art galleries, local artisan vendors selling their unique wares, several food trucks and restaurants featuring their food (some are even award-winning ones), and other retail businesses all nestled against the cool Wynwood murals as a perfect backdrop.
If you're a foodie, an art lover, or a shopaholic for quirky finds, you will find many businesses which make up this part of the neighborhood to your delight. It's Miami's most festive block street party so sway and dance in the streets, do an art gallery hopping, go and grab a few cocktails or the popular craft beer, and make new friends with the other art enthusiasts and fun-loving people you'd get to meet here.
Have one lovely night of an enjoyable experience and maybe, click that camera for a great Instagram shot in one of your favorite street murals for a souvenir.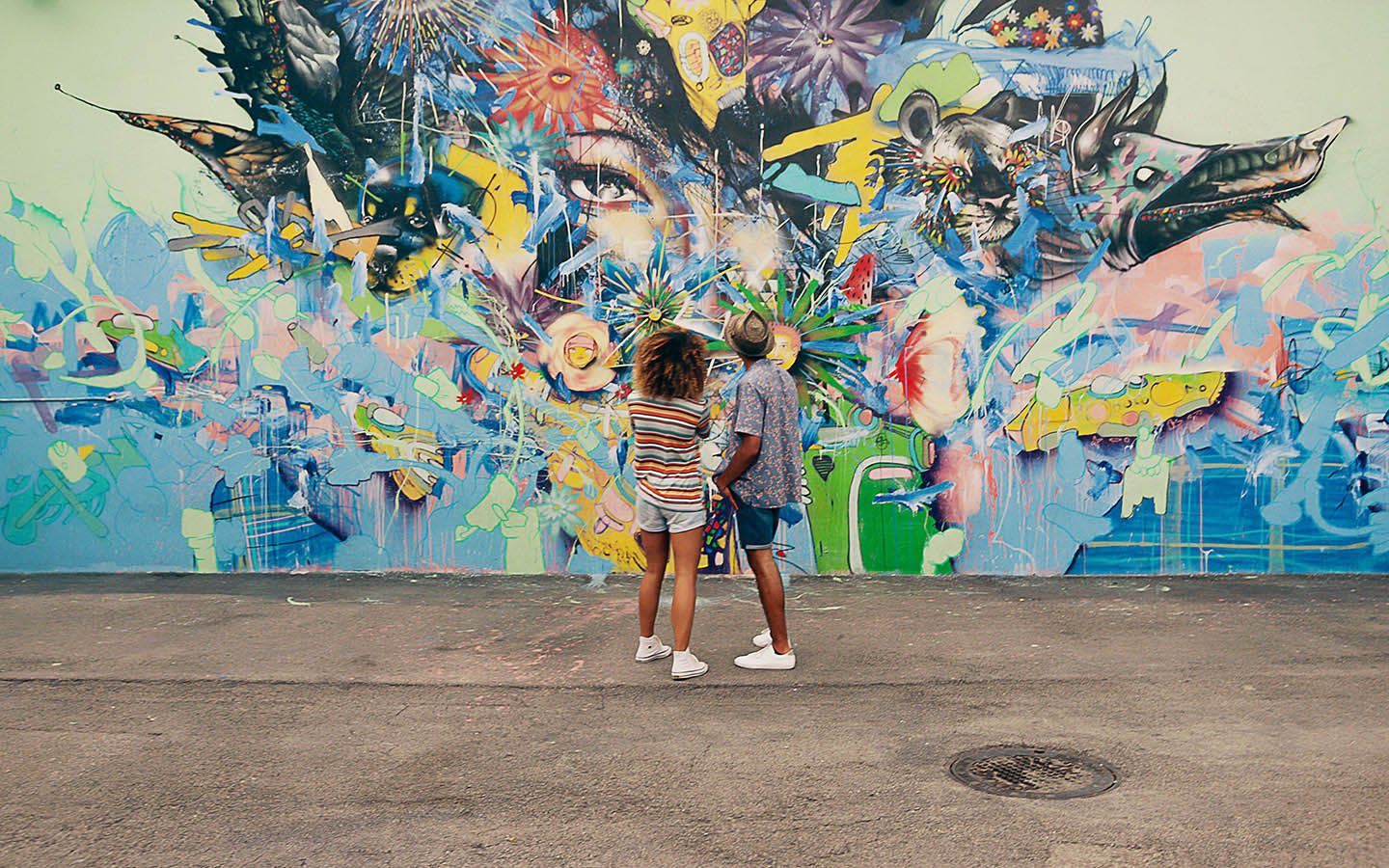 Museum of Graffiti
This is a one-minute walk from Wynwood Walls and is considered the world's first museum dedicated solely to graffiti. It aims to preserve graffiti as an art and support its development in design, advertising, art galleries, and fashion. A visit here will offer you a lot of varied experiences, like indoor exhibitions, a fine art gallery, several exterior murals, and a posh gift shop with limited edition items curated from the world's most gifted graffiti artists. It's a great place to spend a few hours in your downtime.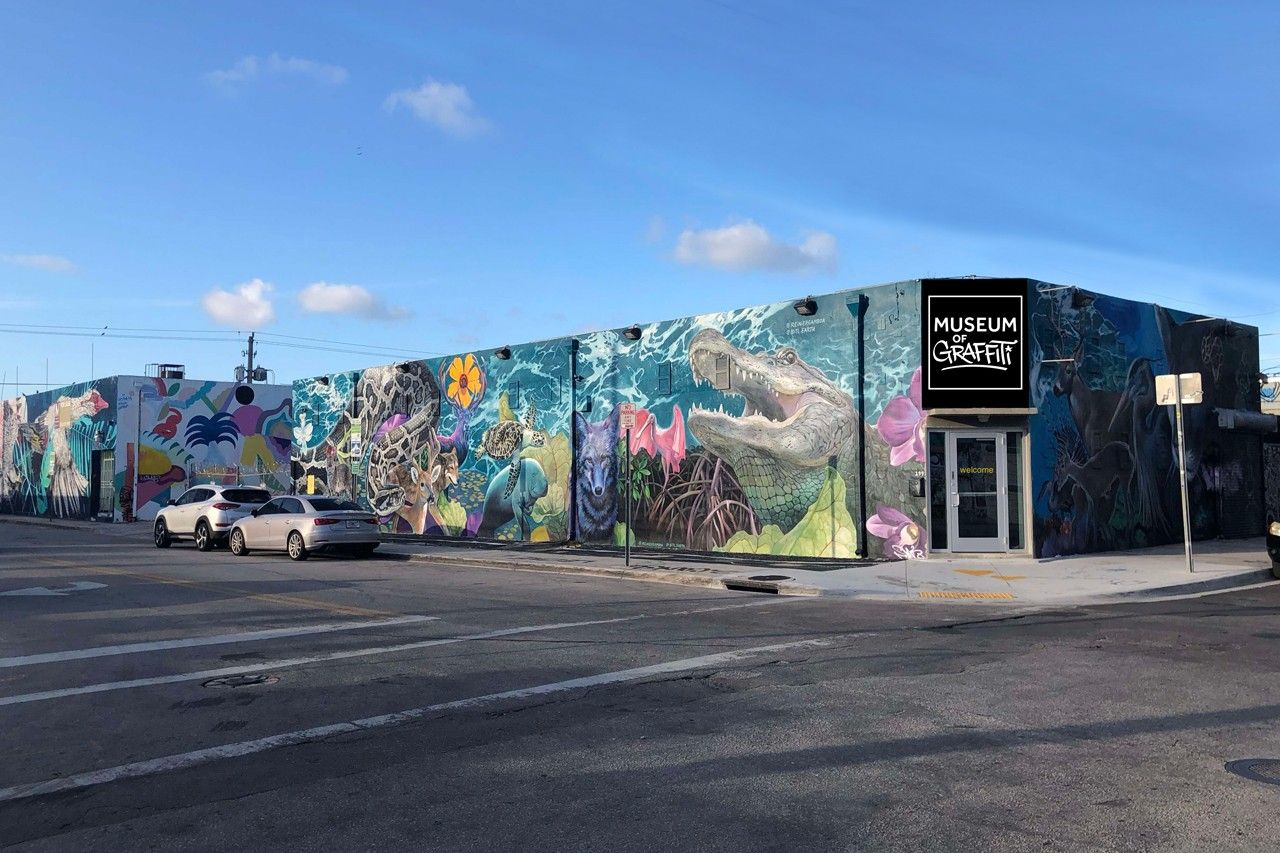 Neighborhood Vibe: Dine, Drink, and Shop
Wynwood is abuzz with so many activities, day in and day out. The fashion-haven, Miami Design District (which is a stone's throw away from the small neighborhood) is the "go-to" place for splurge shopping of well-known global luxurious brands. For everyday essentials, one can shop in the nearby Midtown Miami area where a retail giant store like Target is located. When you're too tired to shop and just want to relax from it all, hie-off to the crystal blue waters of South Beach, a short 20-minute drive away.
Wynwood has also evolved to be one of Miami's popular culinary destinations – there is a place for any food that you crave. Some of the best Wynwood restaurants you MUST TRY are the following:
Kyu
– This Asian-inspired resto offers various favorites such as Korean fried chicken, grilled meats, sashimi, and roasted cauliflower head with shishito-herb vinaigrette, plus cocktails;
Joey's Italian Café
- One of Wynwood's original restaurants featuring authentic pizzas and homemade pasta near the art galleries;
Kush
– Visit here for the best burgers in town and a solid selection of craft beer;
Coyo Taco
– Your Mexican cravings are fulfilled here with tacos, bocadillos, and tortillas which are handcrafted on-site.
For your caffeine fix, head on to an icon, the
Panther Coffee
that makes the strongest coffee (they roast their beans) around. But we have to warn you that it's always packed with people any time of the day.
For those above 21, have a splendid time on weekend nights at hot spots such as
Racket
,
Centro Wynwood
,
Gramps
, and
Wood Tavern
. Enjoy good music, warm friendly vibes, some beer, and drinks that certainly would not break the bank. Or maybe grab some craft beer for which Wynwood is known as a paradise – beer lovers out there can hop among these famous spots:
Wynwood Brewing
,
Veza Sur Brewing
for Latin-inspired tastings and tours, and
J. Wakefield Brewing
.
Now that you've seen how appealing and distinct Wynwood is, you may want to reside here or maybe plan to move in – please check our condo units for sale or rent. All the details are provided below.