Fisher Island is a private tropical paradise. You can find it at the southern tip of Miami Beach. This neighborhood exudes stunning luxury over the glistening blue waters of Biscayne Bay. Fisher Island measures 216 acres of beauty and privacy. It has ultra-luxurious residences, a premium hotel, and a fantastic clubhouse.
Exclusivity and luxury are what set this neighborhood apart. If you want a home in tranquility – then this is it! Then, live with all the amenities and luxuries on an island. Such a dreamy place in Miami Beach!
Residents have both privacy and security. The community features a school, several supermarkets, and a health clinic. There is a bank and several dry cleaner outlets. They also have 18 golf courses, two marinas, a tennis club, and more.
Other world-class amenities are a private beach, a beach club, and a restaurant. There is a luxury spa and a seaside golf course. There are hotel accommodations with unmatched service. There is a Mediterranean-style courtyard villa. Or you may prefer a historic cottage or a guest house suite.
The entire neighborhood feels like more than a five-star luxury resort. Not 100% of the residents live on the island year-round, though. It is home to almost 800 families from various countries. Bloomberg hailed Fisher Island as America's wealthiest zip code in 2018. The average annual income then is $2.2 million.
Location
Fisher Island is 3 miles east of Downtown Miami. North border across Government Cut is the city of Miami Beach. While across Norris Cut to the south is Virginia Key. The Atlantic Ocean is to the east, and Biscayne Bay is to the west.
Fisher Island is a short distance away from the mainland. But it is accessible only by a 24-hour passenger ferry service off the MacArthur Causeway. Or through a private yacht. Top destinations like Downtown Miami and the Miami International Airport are nearby. The commute is 30 minutes away. There's also Port Miami, the home of the largest cruise ships in the world. You can also go to Ocean Drive or Lincoln Road in South Beach. Enjoy some fantastic dining, shopping, and entertainment in these famous spots.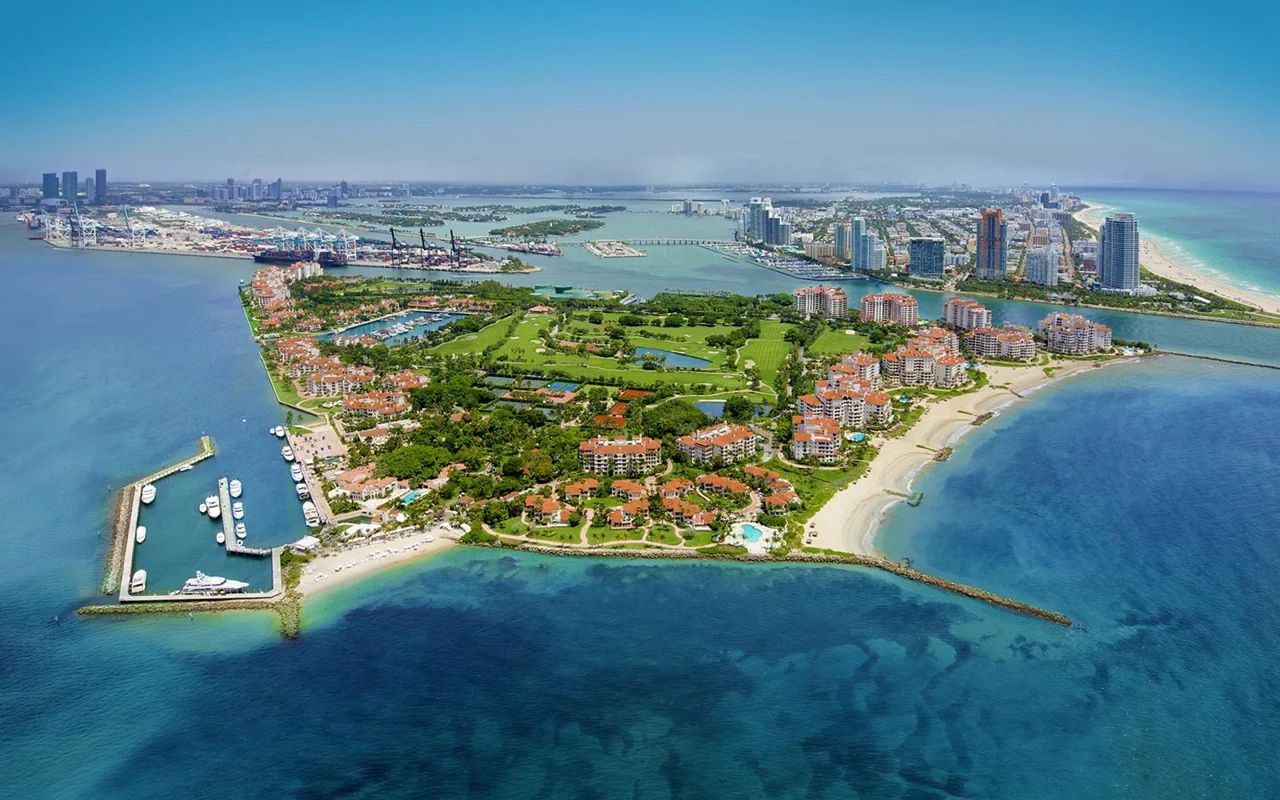 History & The Vanderbilt Mansion
Carl G. Fisher, Miami Beach founder-developer, purchased the property from Dana Dorsey. He is South Florida's first African-American millionaire. He is into business and real estate development. Construction of Fisher Island started in 1919. William Kissam Vanderbilt II traded a 250-foot luxury yacht to Fisher in 1925. It was in exchange for the area's ownership.
The Vanderbilt Mansion was built in 1941. This breathtaking estate features guest cottages and staff quarters. The airplane hangar is a part of this historic hotel accommodation and club on Fisher Island.
The Fisher Island Club
The Fisher Island Club is the usual venue for most indoor and outdoor events and activities. It was the exclusive winter refuge of the wealthy Vanderbilt family in the 1920s. This mansion is in Mediterranean style. It features a 2,250-square-foot ballroom. Plus, there is a 6,800-square-foot terrace for a stunning reception. As an upscale neighborhood, Fisher Island has been home to several celebrities worldwide. Andre Agassi, Julia Roberts, Oprah Winfrey, and Pavel Bure are among them.
This club was the heart of all social activities on the island. But there is more to explore as you walk or drive through the manicured golf court paths.
Fisher Island Club offers first-class amenities. There's a hotel and resort, a marina, and pristine beaches. There is a championship seaside golf. There are pools and tennis courts (all four Grand Slam surfaces). Check out the luxury spa, restaurants, and lounges. Expect the best service in this private club, as accommodations are the finest. There is utmost security, as expected.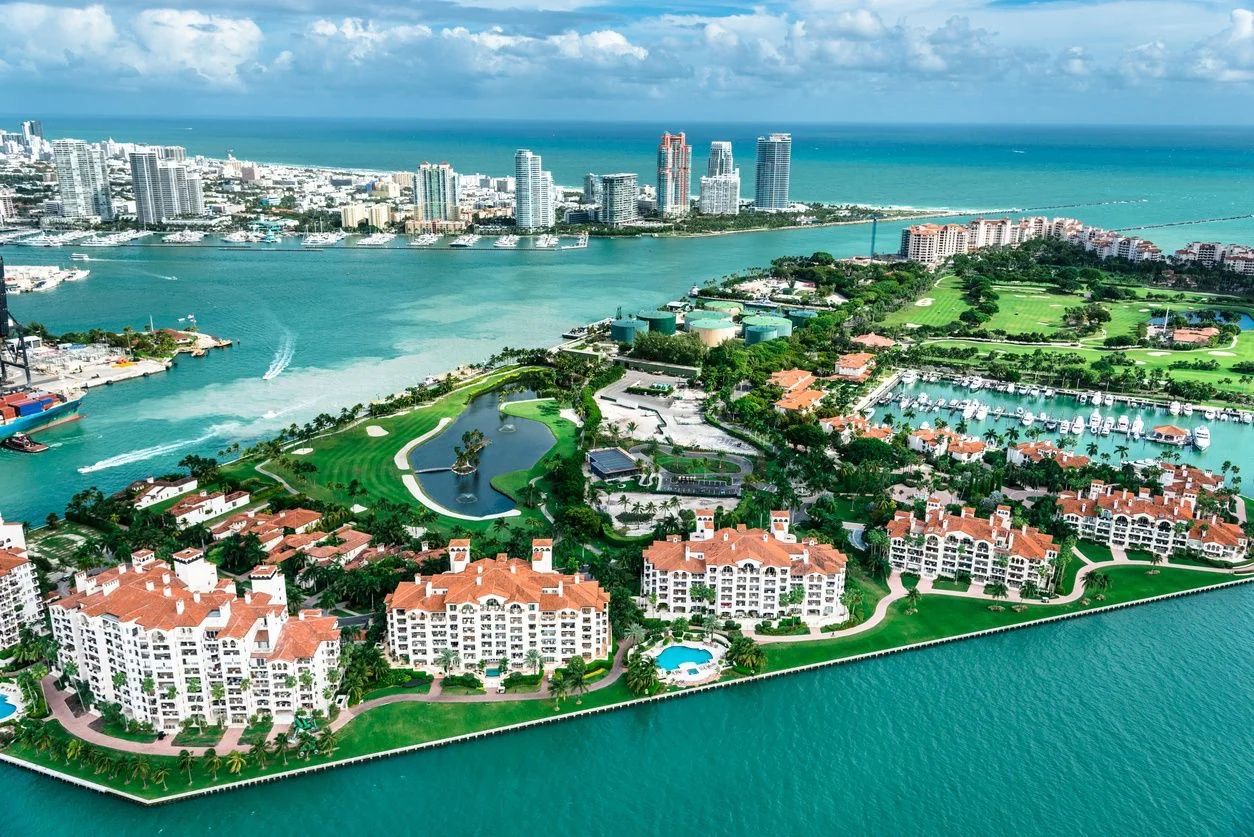 Wildlife
Fisher Island has abundant wildlife on land and sea. Check out the beautiful peacocks or charming little bunnies. Watch out for green iguanas, too. You may also see some dolphins, manatees, or sharks on the bay, marina, or ocean. Explore and check more animals at Aviary Park. Fisher Island is a bird sanctuary, too. It's a haven for other non-wildlife animals. It boasts a dog park, so it is pet-friendly.
Real Estate at Fisher Island
Many of the buildings on Fisher Island are luxury residences. They reflect the Mediterranean architecture of the original Vanderbilt mansion. These homes feature ornate details. Bask in the panoramic views of all: Miami skyline, Atlantic Ocean, and Biscayne Bay. Sigh at the well-manicured lawns and refreshing gardens. The grounds feature lush foliage, colorful flowering plants, and tall palm trees.
The older buildings are smaller and traditional in style. The new ones are modern, high-rise structures. Check the variety of different houses and apartments. Fisher Island fits the bill of luxury and stability. Living here spells exclusivity, too.
The transport mode on the island is a golf cart. What a fun way to explore the island! It can accommodate up to four people.
Indeed, Fisher Island is stunning with charm, indulgence, and elegance. It will meet and exceed your expectations for a worthy and lovely home to live in with loved ones.
Are you dreaming of owning your paradise here at Fisher Island? Or want to invest in a vacation home? At BrokerOne, we will provide you with all the details and assist you every step of the way.