How do you like going to the Biscayne Bay or the Atlantic with your yachts in a few minutes? Or stroll along and relax in Miami Beach? How about playing golf within your exclusive neighborhood?
Do you love the sea, the golf, privacy, tranquility, and luxury? Indian Creek Island is the right neighborhood for you.
Indian Creek Island is where the billionaires are. It is one of the most expensive places to live in the country. Business tycoons and celebrities call this island their home. Some famous residents here are Tom Brady and his wife, Gisele Bundchen. There are Ivana Trump and Jared Kushner, too. Affluent businessmen like Leroy Schecter and Carl Ichan have their mansions here, too. But more than the prestige, this is the ideal setting for people who want extreme privacy.
Properties here rarely command prices of less than double-digit million dollars. Security is tight 24 hours a day. The entrance to the island is through one private bridge. Views are breathtaking right from your windows. Enjoy the stunning coastlines of Biscayne Bay.
There are only about 50 lots in all. Indian Creek Island has 30 residences now. All the properties have access to stunning waters. The houses are on the scenic edge of the island. Some mansions feature swimming pools, jacuzzis, and private gyms. The lawns and gardens are open and spacious. The world-renowned Indian Creek Island Country Club is in the inner surroundings. You may also find the sprawling golf course a walking distance from your home.
Indian Creek Island is the cream of the crop of real estate in South Florida. This is the kind of neighborhood you will hope for and dream of – for comfort, luxury, security, and privacy.
History
Island Creek Island was not famous in its early years. But this place has always been exclusive and affluent.
What led to the creation of this beautiful island in the early 1900s? The dredging work done in Biscayne Bay was the reason. Developers want to match the English countryside appeal to Miami's most affluent. Around the 1930s to 1940s, they began looking to this tiny island to build their vacation homes. Besides, they also love the superior amenities of the country club. Some of these old properties still stand to this day around the neighborhood.
Not too long after, they incorporated the Indian Creek Village in 1938. The community then still has a few residents and members in the exclusive country club.
Some celebrities and high-net-worth personalities started moving into this community soon after. The influx of the elite, plus the longer time they spent on the island, was beneficial. It paved the way for Indian Creek Island to build more family-oriented infrastructures. They've modernized the worn-out buildings and improved the old roads, too.
Location
Having a suitable location is an advantage Indian Creek Island has over other towns in Miami.
Indian Creek is only about 120 hectares (or 300 acres) in size. There are about thirty to forty property owners at a time. It is a very secluded and private community, so the rich and famous usually look at it as a vacation home.
Indian Creek is in Downtown Miami's northern part by the stunning clear waters of Biscayne Bay. Above it is a small island town, Bay Harbor Islands. The southern side is the Normandy Shores. Right at the east is Surfside, which is the only entry to Indian Creek Island. Visitors are not allowed without prior permission. This can come from either a property owner or a resident. You would expect a higher standard of living here. But then, the utilities and health services are cheaper here than in other parts of the country.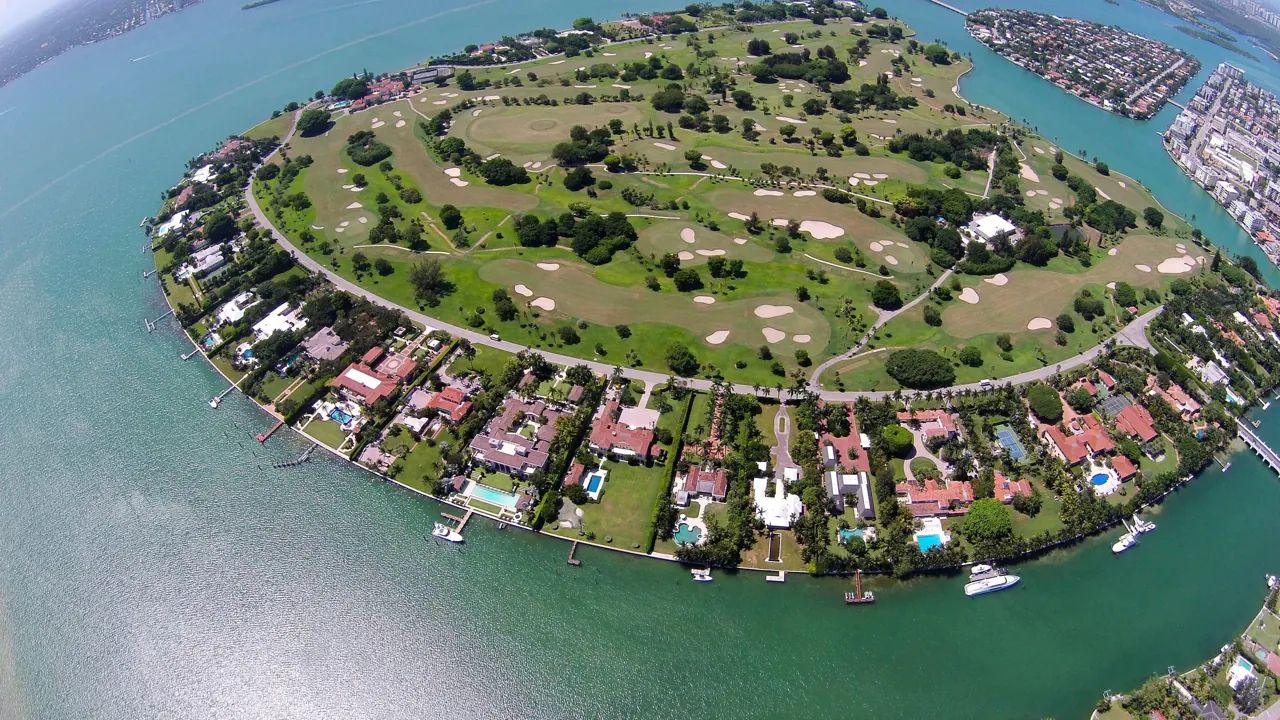 TOP 2: Neighborhood Amenities
The TWO best amenities that you can find at Indian Creek Island are:
1. Country Club – One of the most exclusive clubs comparable to others globally. Its design is a sprawling Mediterranean-themed building. Maurice Fatio, a renowned architect, is the one who designed this country club. This country club features an array of luxurious amenities. Among these facilities are a pool, a fitness center, a steam room, a massage room, a marina, and a bridge room. There is also a high-end restaurant that hosts exclusive functions and events. Of course, the yearly dues are pretty excessive. The initial membership fees are anywhere from $150,000 and higher. Do you know that being a member here even though you bought a property is not guaranteed?
2. Golf Course – This must be the most sought-after gem of the private island community. William Flynn designed this golf course in the 1930s. Flynn was one of the most admired 20th-century golf course architects. His design of the 18-hole golf course at Indian Creek Island is pretty impressive. No wonder this place is one of the most desirable areas in the country. If you want to play a round of golf here, a member should invite you since it is exclusive.
Other Points of Interest:
The nearest neighborhood is Surfside, where dining and shopping are excellent. Fantastic restaurants offering a variety of flavors are your options. The 26 Sushi and Tapas and the luxurious The Surf Club Restaurant are notable. They define the local dining destinations here. Go and splurge at the Bal Harbour Shops for some designer stuff. You may opt for any of the local boutiques at Harding Avenue. You may also visit one or two of the upscale hotels in Surfside. If you feel you need a breather – these hotels offer the best leisure choices.
For families, it is worth noting that Indian Creek Island is close to several private schools. So, you need not worry about your kids' education. There are several choices for a good school.
Real Estate at Indian Creek Island
The homes for sale in this neighborhood are usually in the multi-million-dollar levels. Properties sell for as low as $6 million. Others can be as steep as over $18 million. Thus, if you want to experience what it is to live here, you must shell out more cash from your pockets.
Indian Creek Island boasts sprawling homes where one can enjoy ultra-luxurious living. It is not unusual to see one-acre or multi-acre lots with over 10,000 square feet of living spaces. The residences have beautiful landscaping - usually tall, lush hedges for privacy. Besides, each home has a private dock and hundred feet of water frontage. Most homes have Mediterranean style and architecture. This is to keep in line with the Indian Creek Island Country Club's design. But you can also find homes with contemporary styles.
Homes at Indian Creek Island are rarely listed in the market. But when they do, you know that they command headline-worthy prices. Home owners usually do private listings. Some owners seek out sellers through word-of-mouth. An example is a 'sold-off-the-market house' in 2020 for $50 million. This makes it the most expensive sale in Miami for that category.
Look for an established professional realtor who can help you have a home at Indian Creek Island. We at BrokerOne can assist you. We can check non-listed properties or those in private sales. We will find one excellent property that can be your potential dream home.