If you want a relaxing lifestyle but still have fun on most of your days – one neighborhood comes to mind, and that's Deerfield Beach. Want to surf in the ocean, go fishing on a vast pier, or maybe build sandcastles on the smooth beach? Or would you instead explore and do various nature trails, kayak and sail through mangrove forests, and watch the birds? Oh yes, try wakeboarding or waterskiing at the 1st Cable Wake Park in America. Then, slow down and grab some snacks or lunch at a nearby waterfront restaurant for the fresh seafood offerings.
Deerfield Beach got its name for groups of deer that once wandered in the area. This city is full of charm though it is small compared to other neighborhoods. Its appeal lies in its natural wealth of waterscapes. It is one of the most family-friendly spots to enjoy a vacation. It is a warm and peaceful community. Indeed, one of Florida's calming gems provides affordable seaside living, far from the luxury of the other Southern portions of the peninsula.
The primary attraction of Deerfield Beach is undeniably its soft, golden sand along the pristine stretch of the renowned beach. It has reaped accolades, being a 'Blue Flag' Award winner – with its remarkable quality of waters, coupled with clean water conditions.
This neighborhood is perfect for water-loving families who always enjoy good times at the beach. Deerfield Beach is brimming with pride in its lovely boardwalk and extended fishing pier. Not for you to worry as there are lifeguards on duty every day, so this place is undoubtedly safe and secured.
So, time to enjoy the sun, don on your favorite swimwear, pitch in your tent, walk by the shores, or jump straight into the waves. At Deerfield Beach, each fun moment spent in the water or the land becomes part of your life's special memories, no matter how simple it seems.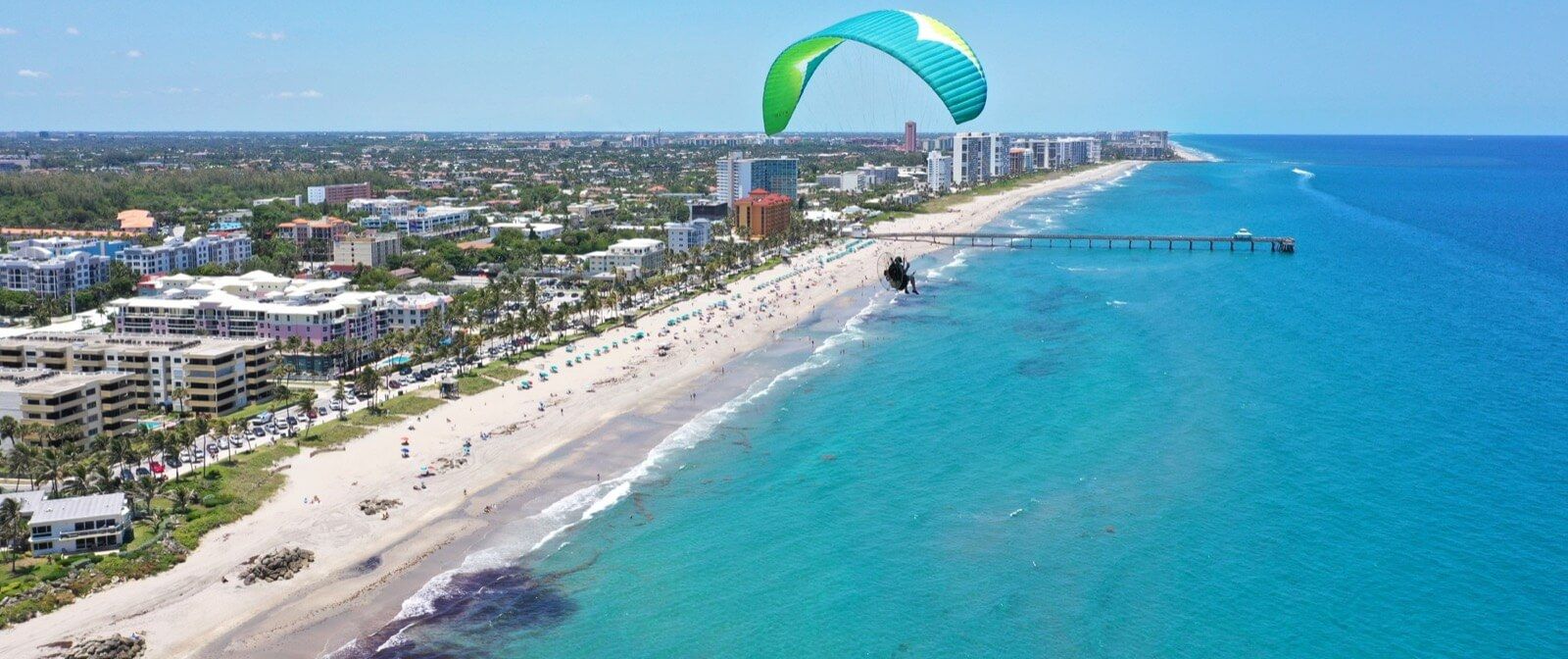 Location
Deerfield Beach, a small city in Broward County, Florida, is situated between 2 equally famous neighbors,
Boca Raton
to the north and Pompano Beach to the south. This quiet gem is just 21 minutes from a popular area,
Fort Lauderdale
, plus about 45 minutes north of
Miami
– this is one town worth a second look at, and you might find wanting not to leave on your first visit.
Beginnings
Deerfield's origin was a farming neighborhood within the Hillsboro River in 1890. As the turn of the century paved the way for the Florida East Coast Railroad, many settlers came in, thus, increasing the population by three times.
By the mid-twentieth century, the "Beach" was added to Deerfield as a new name mainly to attract more tourists. After that, there was an expansion again in the 1960s to 1980s. By the 21st century, Deerfield Beach's population has increased continuously as the city gained an expansive socioeconomic diversity.
Culture and Lifestyle: Relaxing with Beach and Nature
If you want a peaceful and relaxed lifestyle with the simple charm of an old town, Deerfield is an affordable neighborhood with these qualities. It reflects the traditional Southern warmth and hospitality. Although it is not as luxurious or sophisticated as Miami, it still offers good dining and shopping options. The beach culture draws in the tourists though typically, the setting is quieter than its busier and more active neighboring communities in the south.
Within the city's boundaries, there are various daytime activities you will enjoy, notably their beach, boardwalk, and pier. These are their renowned crowd-drawers. Both land and water are Deerfield Beach's offerings with their remarkable biodiversity. As the only waterski and wakeboard resort in South Florida, there are several choices for a lifestyle like basking in the sun or enjoying community activities. One popular event is the Wine and Food Festival, meant to nurture solid friendships and camaraderie among its residents.
The town provides the ideal backdrop for great leisure opportunities such as swimming and various watersports. Lakeside living is an excellent option for those who love the water and nature. At Deerfield Beach, there are plenty of lakes and waterways with low-lying terrain filled with mangrove forests. The unexpected appeal of living here is the fun times to bond with families, a way to unwind and relax easily with loved ones without having to go far. But in case you need to go out of the neighborhood, Florida's Everglades Wildlife Reserve is a short distance away.
Among Deerfield Beach's TOP attractions are the following:
Deerfield Beach and Boardwalk
Their main attraction is their beach, that's safe for swimming and surfing (in allowable areas). Facilities for beach volleyball are available, too. There are sea turtles everywhere around the beach, and they're duly marked, so they remain unbothered. The boardwalk is gorgeous, clean, and well-maintained. There's ample parking, plus you can have a good run or walk here with no rollerbladers or bikers allowed. The vibe is so relaxing with fresh ocean air and stunning sunrise views.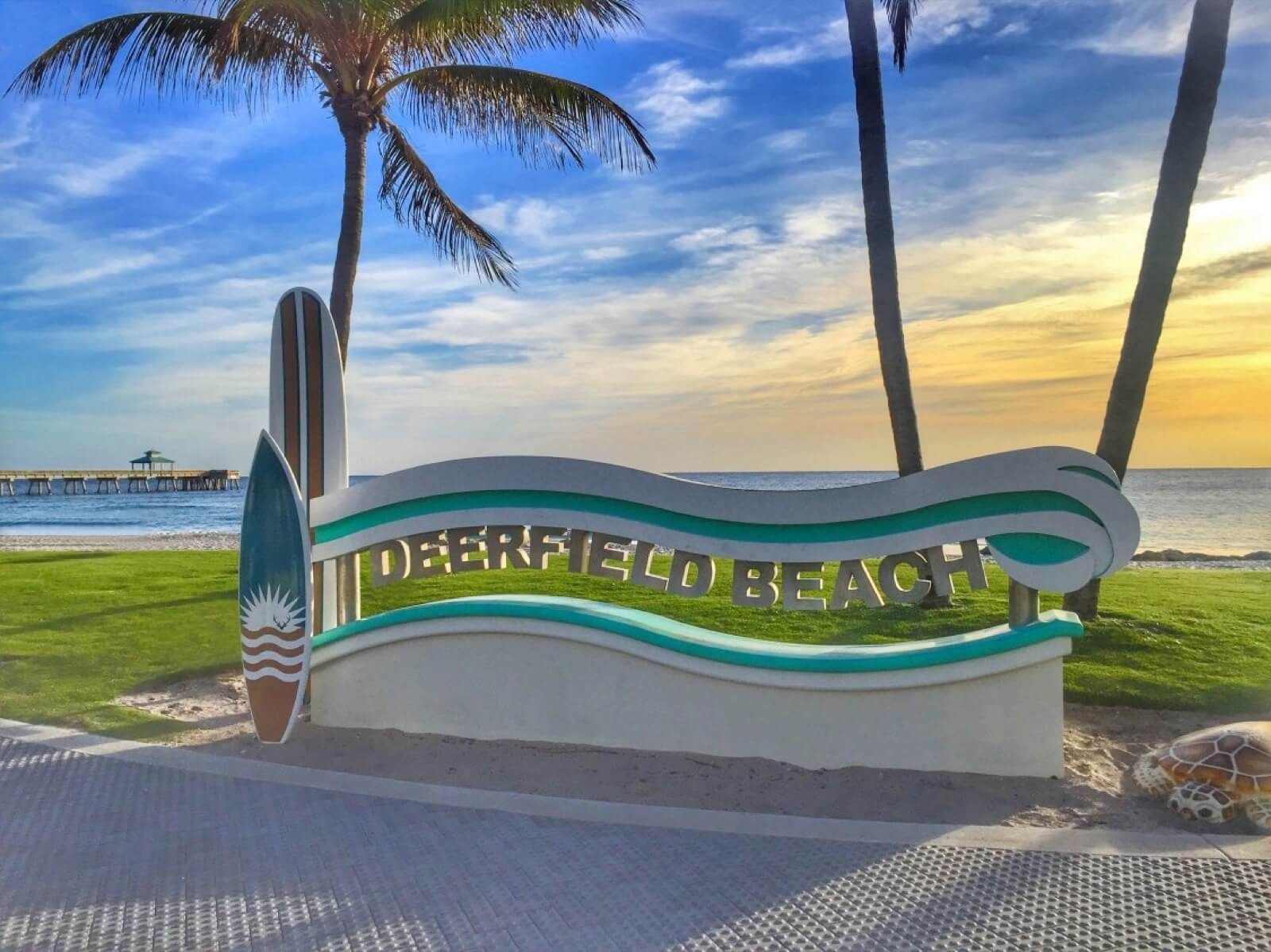 Deerfield Beach Fishing Pier
The Deerfield Beach Fishing Pier is a long stretch of about 976 feet, which replaced the original structure of the 1950s. Since the beginning, this was the meeting place of fishermen as they socialized while landing their catch. There are still some of them who frequent the pier. For the others, they usually rent and buy stuff for fishing. Some would pick their favorite spot and watch the waves or make way for a leisurely walk at dusk amidst the gorgeous sunset views along Florida's coast.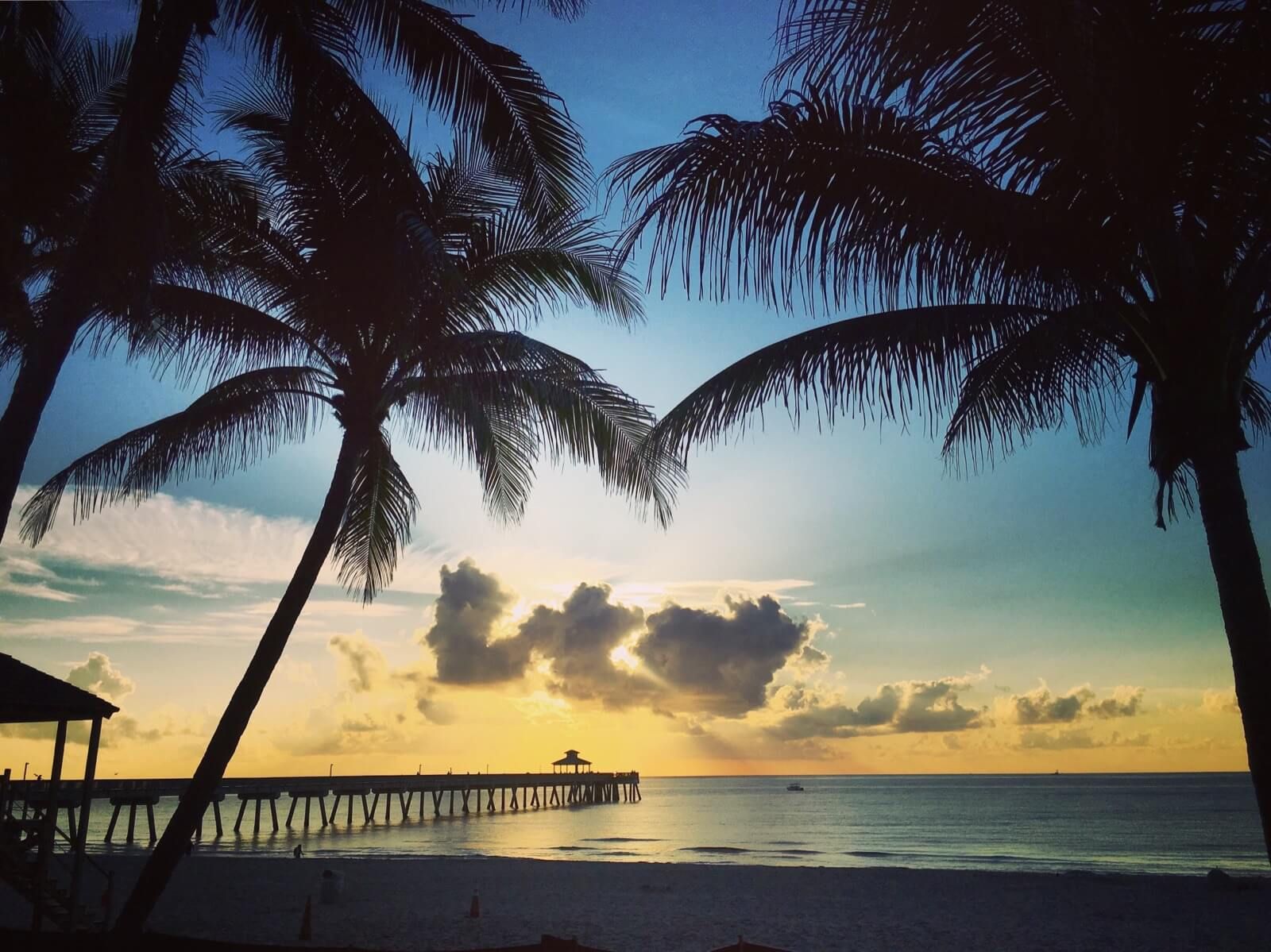 More Points of Interest
The Butler House
This spot is the "go-to" place if you're curious about Deerfield Beach's rich history. It was the former home of Deerfield's first local settlers, James and Alice Butler. The Butler House also has organized events, such as music recitals, film screenings, and photography programs.
Mizner Park
There are posh shops and great dining spots lining the well-landscaped streets of Mizner Park, a short drive to nearby Boca Raton. Aside from the boutiques and restaurants, there's also a movie theater. Check this spot – it would be a total enriching experience. You will feel the old Florida charm coupled with the modern luxuries of the present. Think about spacious outdoor patios providing the backdrop with cascading tall palms, attractive lampposts, well-manicured gardens, stunning pink buildings, and a lovely gazebo.
Arboretum at Constitution Park
This popular park is a welcome escape from the scorching hot days as you go through nine acres of tree zoo with exotic varieties of tropical fruits, palms, bamboos, and native species, as well as a butterfly garden. Joggers can go here for their half-mile canal-side walking trails, too.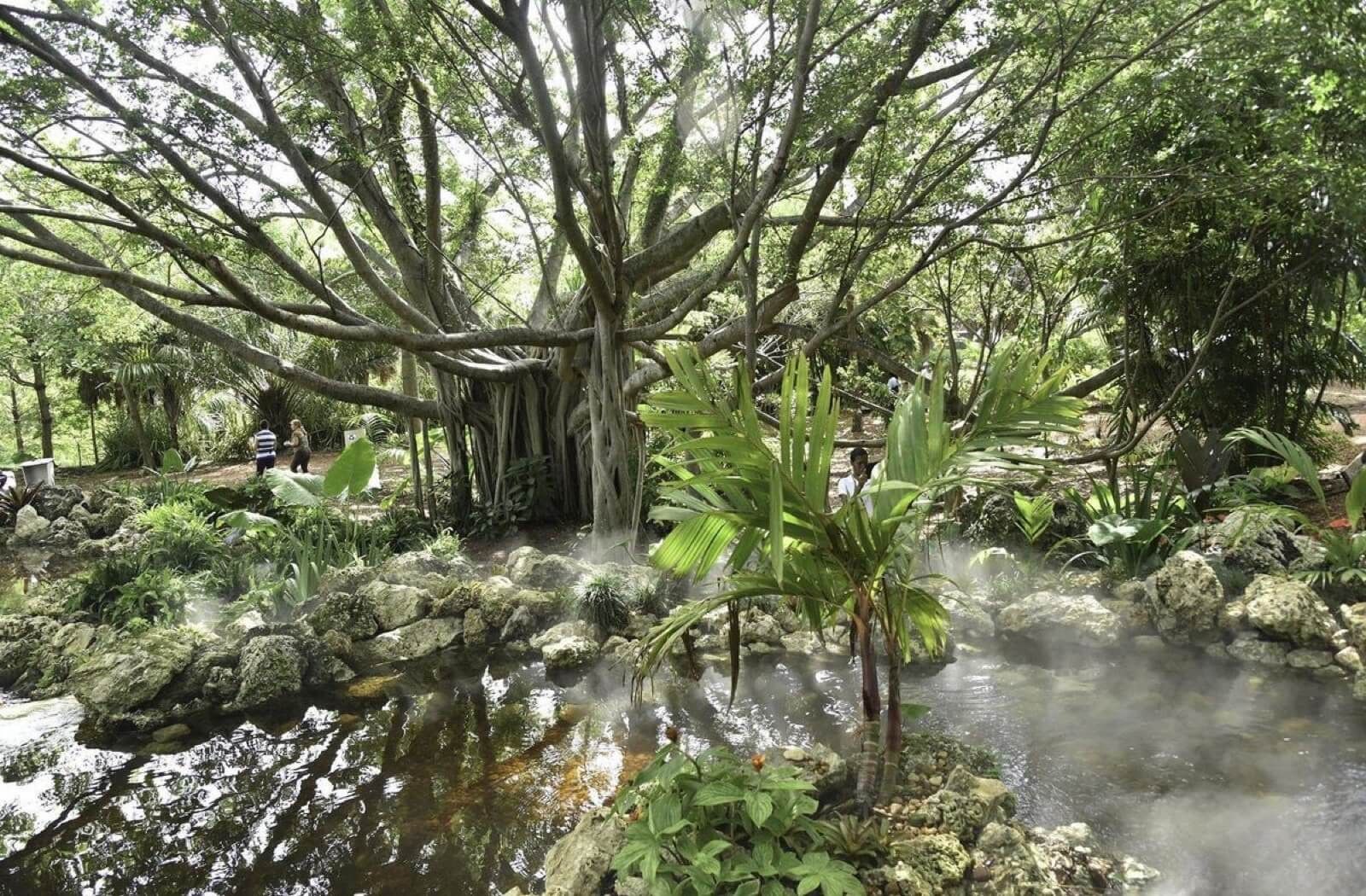 Quiet Waters Aqua Park with Watersports
One of the most fun spots at Deerfield Beach is the Quiet Waters Park. Here, you can find the famous Ski Rixen Cable Skiing Center and experience the excitement of water skiing or wakeboarding less the boat. Using only a set of cables and pulleys – you can go all over the blue waters at your preferred speed. In addition, there are several teepees and cabins for rent if you need to go overnight in their campgrounds.
There are several lakes which offer boating and fishing adventures, too. Other things to explore here are varied, like biking, playing basketball, or playing with your dogs for fun times at their dog park.
Whale's Rib Raw Bar
One of the city's crowd drawers with the old-time Florida touch is this bustling restaurant/bar offering a great variety of seafood. They serve oysters, clams, and other shellfish direct from their raw bar. Their famous whale fries remain a top menu item, along with their big sandwiches and handcrafted cocktails.
Leisure and Fun Activities
You have several good choices when you want to unwind and relax after a week's work or just bond with your families. Here's a rundown of the different parks at Deerfield Beach:
Deerfield Island Park
Deerfield Island Park is a mangrove swamp triangle all within 53 acres. You can reach this place via boat shuttle. The camping and picnic areas, nature trails, and playground are things to see and explore here. Animals you can spot here (be sure you have binoculars with you) are the ospreys, gophers, raccoons, and tortoises.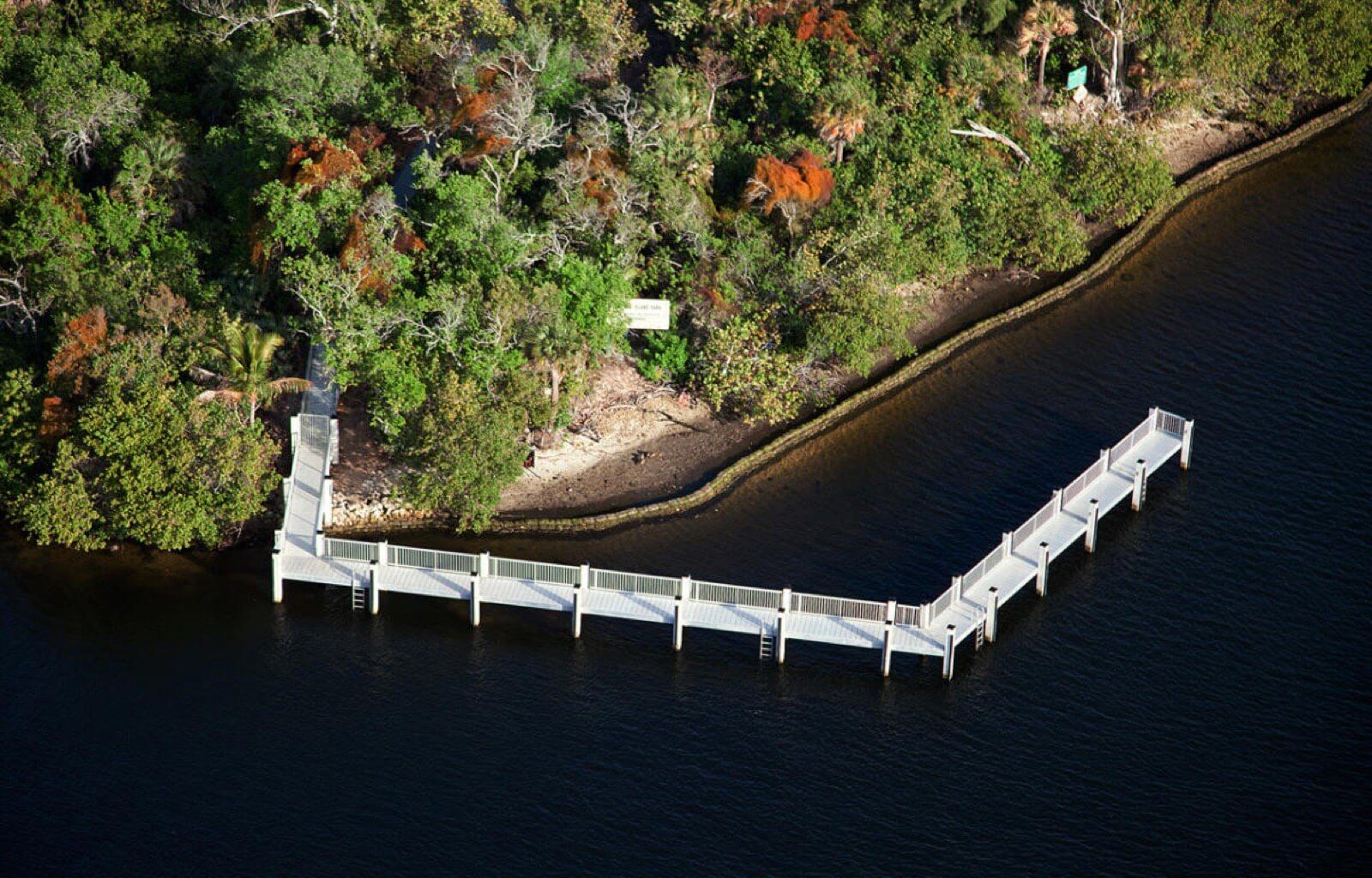 Tivoli Sand and Park Preserve
This spot is a stunning landscape trail layered by about 25 acres of pinelands scrub. There are primarily butterflies and birds in this protected environment, including tortoises. So, if you're looking for a good walk from dusk to early evenings, go and visit this place.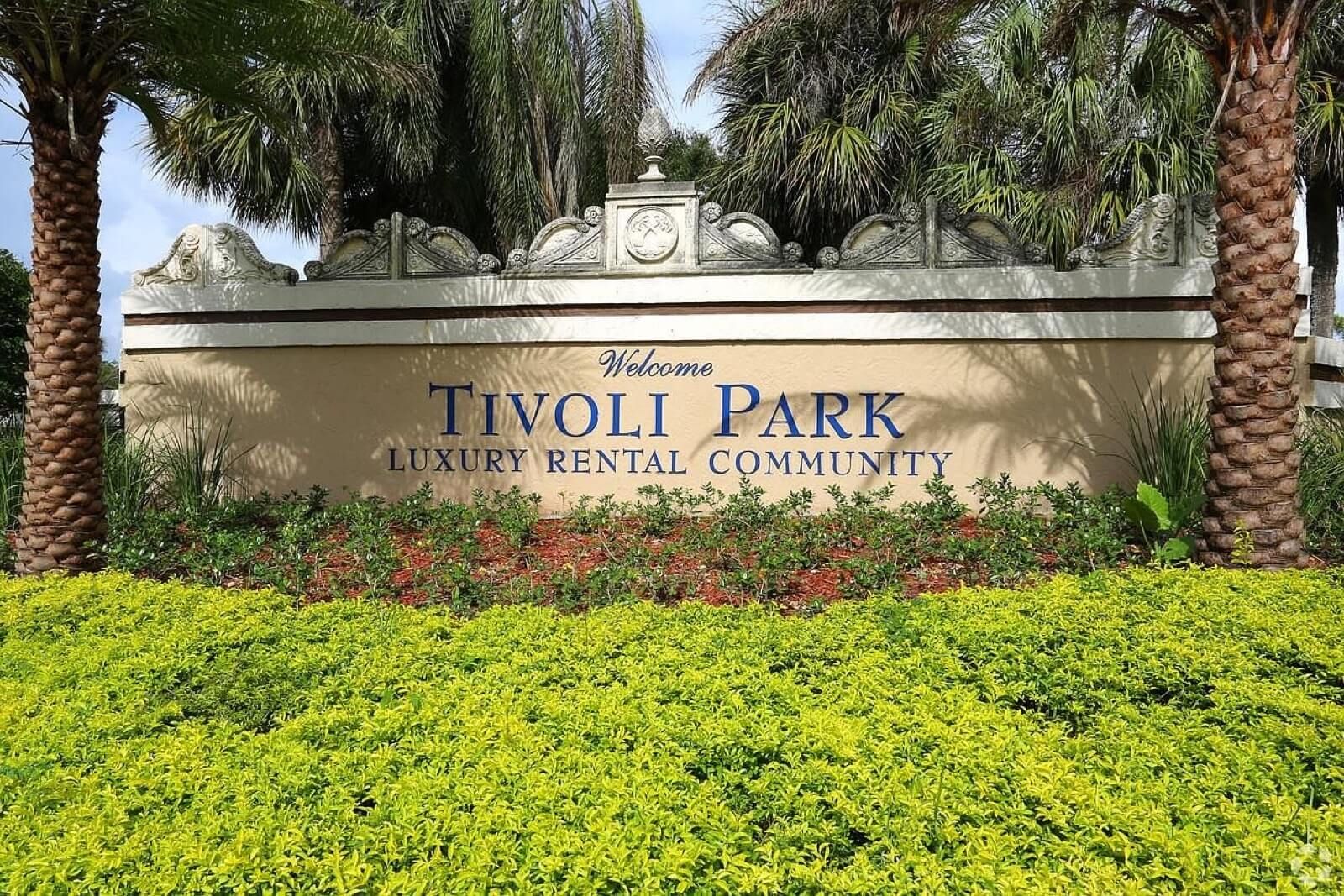 Villages of Hillsboro Park
Sports lovers will enjoy this small park where there are courts for tennis, basketball, and volleyball. Some locals go here to walk, run or skate. A walking trail with some exercise stations is also one offering here. There's also a section within the edge of the gulf stream so you can launch a small boat or maybe run along the waters' borders.
Highlands Scrub Natural Area
This area is a 34-acre boardwalk trail that will take you to a winding adventure of rare pineland scrub, all canopied with sand pines and oaks and colorful underbrush. This place has wheelchair-accessible trails, benches, a pavilion, and informational signages.
Military Trail Natural Area
This trail is a hidden gem, a semi-wilderness located just 5 minutes away from Tivoli Sand and within the boundary into Pompano Beach. Once inside, you'll be surprised at the preserve of 20 acres of Pine Shrubs and Flatwoods. In addition, you will see various birds such as mockingbirds, blue jays, and prairie warblers.
Oveta McKeithen Recreational Complex
Never mind the long name, as this appealing 15 acre-park is a place that would set the sporty ones on fire with enthusiasm. Their offerings include lighted basketball courts, table tennis, a multipurpose field, baseball fields, a gym, and a football field. Or go to their picnic areas, playgrounds, and walking trails. This complex also hosts the Deerfield Beach Music Festival in summer and some drive-in movies on occasions.
Housing Options
The properties in Deerfield Beach are different - from trailer parks to modern housing developments in The Cove and small condominium developments near the beach. Housing options in Deerfield Beach are diverse and wide-ranging as a testament that you can find a home here that suits your own needs and budget. There's a balanced socioeconomic mix in its population. Most locals own their homes, counting from the simple mid-century ranch-style homes to the more majestic Mediterranean Revival homes. In addition, there are inland homes of bungalows in some areas like Arlington Park. The waterfront homes command higher prices and have beautiful gardens and boat docks.
The Cove district has the most luxurious homes – complete with balconies, multiple bedrooms, and swimming pools. On the other hand, the mid-price condos nestled facing the ocean are considered good buys for their locations and spectacular views.
Most condominiums are not in the high-rise category, meaning there are no penthouses that soar and overshadow some of the houses adjacent to the said buildings. These condos typically have shared amenities, like a swimming pool. The low-priced condos around the inland waterways and lakes within Century Village are choices for a dream home.
Are you interested in living or moving to Deerfield Beach? There are units for sale or rent so
check our inventory
for details.